Try out your climate policy ideas
Test the effects of 50+ approaches with the new Energy Policy Simulator
The Energy Policy Simulator (EPS) is Canada's first free, open-source tool giving you a chance to see how energy and climate policies influence emissions across the country.
From carbon pricing to mass transit to building efficiency, this tool allows users to gain a deeper understanding of how Canada can lower carbon emissions and meet our international climate commitments.
Watch a short video about Canada's Energy Policy Simulator 
Watch the webinar recording (June 27, 2023)
Explore Canada's Energy Policy Simulator by clicking on the banner below.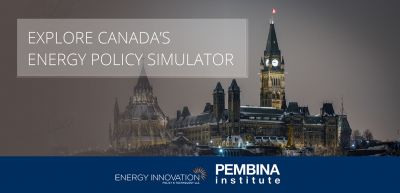 The EPS tool was developed by the Pembina Institute in collaboration with Energy Innovation. It's free and open to everyone - based on peer-reviewed source material and publicly available data. The EPS is part of the Pembina Institute's ongoing effort to improve Canadians' understanding of how climate and energy policies can be designed to meet Canada's emissions reduction targets. It can enable Canadians to arrive at well-informed opinions and hold parties, candidates and elected officials accountable for energy and climate policies that can deliver on promises.
More information
We are happy to answer your questions; contact us at policysolutions@pembina.org.