Jason Ruochen Wang is an analyst working on the Pembina Institute's electricity program, focusing on Canada's net-zero electricity grid goal, electric vehicle infrastructure, and regulatory reform for utilities. Jason has a degree in mechanical engineering (University of Alberta) and an M.Sc. in Engineering and Policy Analysis (TU Delft) that focused on strategic, "deep uncertainty" thinking and the science-policy interface.
He has previously worked with the Government of Alberta on climate policy analysis, industrial carbon pricing regulations, and adaptation risk management. He has also worked on industrial energy efficiency in a pulp mill, resource governance research with the Potsdam Institute for Climate Impact Research, distributed energy systems modelling at the Centre for Integrated Energy Research in the U.K., and improving decision-making processes in the Dutch Ministry of Foreign Affairs. He previously led the University of Alberta EcoCar team, which builds and races ultra-efficient hydrogen fuel cell vehicles. Jason is also a member of the Canadian Energy Modelling Hub's Knowledge Mobilization thematic committee.
Jason is based on Edmonton (Treaty 6) and can be found biking, rock climbing, and promoting active transportation outside of work.
---
Contact Jason Wang
cell: 780-680-9264 • email: jasonw@pembina.org
Jason Wang's Recent Publications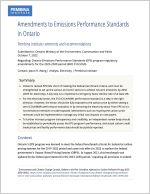 Amendments to Emissions Performance Standards in Ontario
Pembina Institute comments and recommendations
A stringent and credible Emissions Performance Standards (EPS) program is paramount to creating policy certainty for Ontario businesses and industries. In August 2022, Ontario released its proposed amendments to the EPS; these, however, fall short of aligning to the federal benchmark and do not provide a clear path to a net-zero grid. The Pembina Institute provides recommendations for strengthening the EPS to provide policy certainty and unlock low-carbon prosperity.