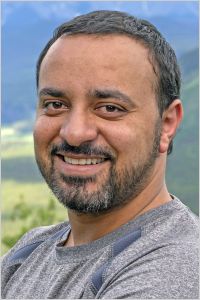 Eyab was a senior analyst with the Pembina Institute's oil and gas program until 2023.
He is passionate about building systemic capacities across the energy system to accelerate the transition to a sustainable, equitable and inclusive society.
Prior to joining the Institute, Eyab held a wide range of roles in the upstream oil and gas sector, including technology development and deployment, engineering, field production operations, capital portfolio management, project management and governance. During his career, Eyab and his wife worked and lived in the community of Fort McMurray, Alberta, which gave him an on-the-ground experience on the tension between economic prosperity and the environmental and social impacts of energy and resource development.
Eyab is a father of two, a professional engineer, and a graduate of the University of Calgary's Schulich School of Engineering. He is an associate at Human Venture Institute (formerly Leadership Calgary), a fellow of the Energy Futures Lab, and fellow of the Royal Society of Arts (the RSA).
---
Eyab Al-Aini's Recent Publications