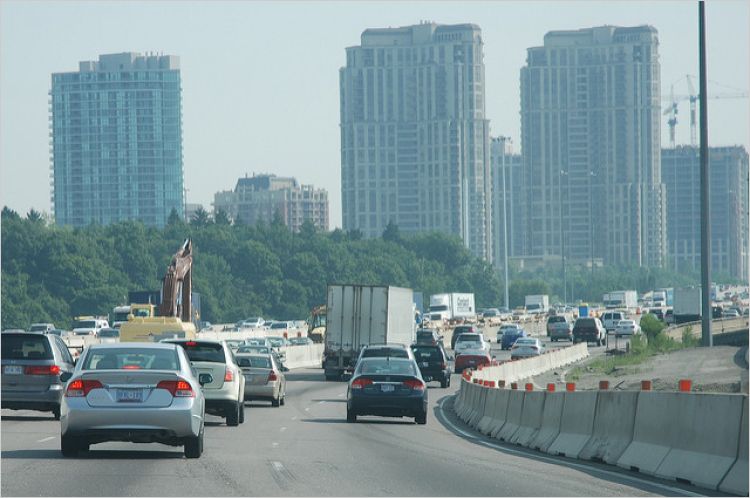 We're a few weeks past what was a roller-coaster of an election in Ontario, ushering the Progressive Conservative party into power and placing the New Democrats as the official opposition, being sworn in this Friday.
The PCs were clear in their campaign: this government will focus on making life more affordable for average rural and urban Ontarians and on creating jobs in the province. These are worthy aspirations, ones that we share, but so far we're seeing a push for changes that could end up being more costly for Ontarians.
On environment and transportation, the new government will need to realign several of their current plans if they are committed to achieving their goals of making life more affordable and creating jobs.
Cleaning up our air in the lowest-cost way
The new PC government has committed to protecting the environment and coming down heavy on polluters. We agree polluters should pay  — this is what carbon pricing does in over 70 jurisdictions across the globe. It's only fair that operations producing air pollution, including carbon pollution, pay a price or reduce their emissions. The current made-in-Ontario cap-and-trade system is a form of carbon pricing and has been operating successfully since early 2017. The system ensures lowest-cost pollution reduction, while encouraging business innovation. The dollars collected from polluters have gone into programs to reduce emissions, including to homeowners for retrofits to save on energy bills, to companies for truck retrofits, and are funding infrastructure Ontarians want and need, like transit and cycling infrastructure. There was serious pushback from homeowners who had cost-saving renovations underway when the new government recently cancelled the popular retrofit program.
As one of his first acts after the election, Premier-designate Ford has announced his intention to cancel Ontario's cap-and-trade system, making his priorities clear. What he hasn't been clear about are the costs to Ontarians that will certainly result: businesses are wondering how they will be compensated for the credits they've already purchased, which will cost the government — and in turn, taxpayers — dearly in payouts, litigation, or both. Western Climate Initiative (WCI), the market that Ontario is a part of, has already closed off the rest of the market to trades from Ontario, meaning businesses that hold credits have no one to sell them to.
The Ontario government has even more to lose by repealing cap-and-trade without proposing an alternative to address carbon pollution. Under this scenario, the federal government will apply their own carbon pricing option (the "backstop") and decide how to return the money to the province, without input from Ontario. Why throw away a custom-made pricing system designed to address Ontario's unique competitiveness concerns for an off-the-rack one?
Premier-designate Ford has said that he'll challenge the federal government's authority to apply the federal carbon price. This is unlikely to yield a successful outcome. A legal opinion prepared for the Government of Manitoba in 2017 concluded that the federal government has the right to apply the carbon pricing backstop. If the government goes down this road, Ontarians will be on the line for the costs of litigation in the order of $30 million.
Instead of putting resources into fighting the federal government on the backstop, we invite the new government to work with the current cap-and-trade framework while making changes to address any concerns.
Tackling gridlock and providing housing options
It's clear that Ontarians and businesses in urban regions are looking to their new government to tackle gridlock, as commuting is a growing problem that is keeping workers in their cars and away from their families, and making it harder for businesses to recruit the right people. Transportation is the biggest source of carbon pollution in Ontario and a serious threat to Ontarians' health. Conditions like cardiovascular disease are caused by the toxic substances that people breathe in when cars and trucks burn gas and diesel in their streets.
In urban areas, there's no question that transit is the cheaper way to get around. However, frequent and reliable transit in Ontario's biggest cities isn't available to enough people yet.
In the Greater Toronto and Hamilton Area (GTHA), the PC's central idea on transit is to take over responsibility for subway infrastructure from the City of Toronto and add $5 billion in new subway funding. We welcome the recognition that Ontario needs continued transit investment, but it's important to ask how many people $5 billion in capital funding will serve: subways cost vastly more per kilometre to build than other kinds of transit, take longer to build, and require much higher levels of ridership to be financially viable. The recent 9-km subway extension from Toronto to Vaughan alone cost about $3 billion, so it's hard to see how a useful network could be built with $5 billion if only spent on subways.
To serve the rest of the region, $600 million from already-secured cap–and-trade revenue (again, funds collected from the biggest polluters) was directly earmarked by the previous government to help deliver and electrify two-way, all-day GO service (and other transit modernizations). GO expansion would give residents of communities like Waterloo Region, Hamilton and Markham the choice to use GO Transit throughout the day. If the new government is committed to cancelling cap-and-trade, it will need to find a way to replace the funds for these improvements.
To support transit viability and increase affordable housing supply, this government should work to accelerate development around transit by removing barriers for projects that fit with existing provincial policy. For example, the province could work with municipalities to speed up the right kind of development around transit and ensure family-friendly units are built. Compared to urban sprawl, which requires costly new roads and sewers, development on under-used land in existing communities reduces the property tax burden on residents across the municipality.
Keeping goods moving and supporting businesses
Goods movement is a backbone of Ontario's economy, getting products to market and providing the things we need for daily life. Ontario exported nearly $200 billion in goods to the U.S. in 2017, and transportation and warehousing employs 340,000 Ontarians. The volume of goods moving by truck in Ontario is growing swiftly, fuelled by rapid economic and population growth: between 1990 and 2014, road freight activity in Ontario grew by 242 per cent. Trends like online shopping, just-in-time delivery, congestion and technological innovations are changing how and where goods move around. The trucking industry has to adapt to these realities.
Since fuel and maintenance account for about half of operating costs for most fleets, reducing fuel use is very important for business. It's also important from a pollution perspective, since freight is now the source of just under 10 per cent of Ontario's carbon pollution, and growing.
Building on the programs that exist to help businesses innovate and become more competitive, the PC government could champion efficient freight. As a first step, they should keep in place the provincial program that currently supports businesses, including family-run trucking companies, to retrofit their fleets to use less fuel (the Green Commercial Vehicles Program). Despite its strong support from the trucking industry, it will be lost unless the cap-and-trade system is kept in place or new funding is allocated. The government should also move forward with plans to establish a Strategic Goods Movement Network for the GTHA and better support municipalities who are leading the way on freight.
The next few months will have a lot of change in store for the province. Ontarians are looking to their new government to continue to safeguard their economic well-being and act with prudence in the best interest of all Ontarians. Early indications mean a course correction is necessary.
---
Lindsay Wiginton
Lindsay was the managing director for transportation and urban solutions for the Pembina Institute until 2019.
Sara Hastings-Simon
Sara Hastings-Simons, elected to a three-year term on the Pembina Institute's board of directors in June 2020, was a senior fellow with the Alberta clean economy program with the Pembina Institute.
---