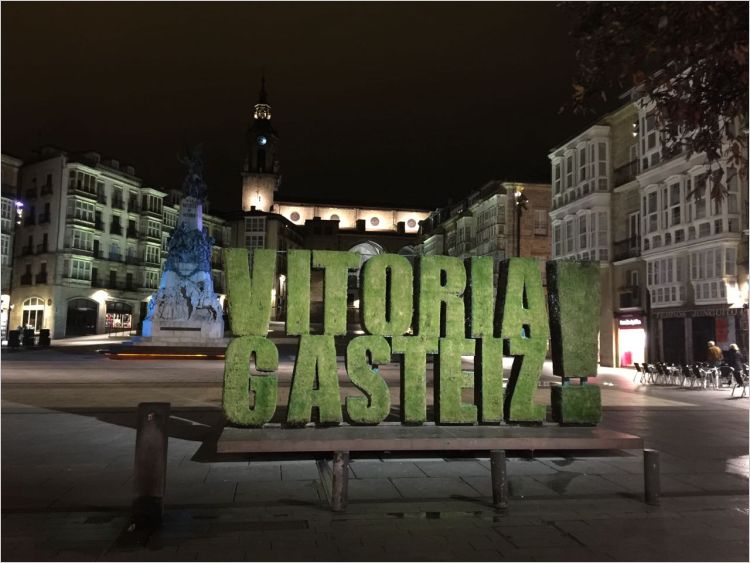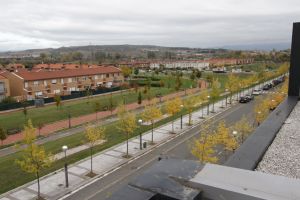 Change is hard. Green energy enthusiasts talk a lot about creating more sustainable cities, reducing emissions and greening up our lifestyle. But then we toil away inside the bubble of our geography and culture while the inertia of our traditions resists innovation.
Shedding this inertia, we flew to Vitoria-Gasteiz (or VG) in the Basque Country of Spain to take a look at the 2012 European green capital. I was looking for a shake-up, some stimulating ideas for creating new sustainable cities that are resilient, beautiful and oozing with livability.
A world away from home
Vitoria-Gasteiz could not have been more different than what I was used to. Where my home city of Edmonton is relatively new, VG is old, having been founded in 1181. Where Edmonton is one of the most sprawling in North America, VG is only six kilometres in diameter at its longest point. Where Edmonton is in the process of building a huge concrete ring road that encircles the city, VG has opted instead to build a massive 1,000 hectare greenbelt surrounding the city on recovered gravel pits, drained wetlands and industrial parks.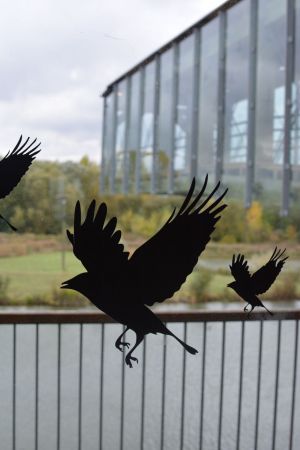 Their decades-long effort at rebuilding nature is creating resilience from climate change and floods while giving citizens an amazing place to live — there are 2 million visits a year into the green belt alone. In fact, Vitoria-Gasteiz might be one of the greenest cities anywhere. It has an impressive 45 square metres per person of green space and gardens. You are never more than 300 metres from a park or natural space in VG. But the city is green in more ways than its parks and trees.
"There is a focus on using the biomass potential we have here, because we have 10,000 hectares of forest surrounding the city," says Gorka Urtaran, the mayor of Vitoria-Gasteiz. "That's one aspect. But also solar, wind, and geothermal power. Most of the new buildings, they consider including all these four types of energy."
Vitoria Gasteiz is a very compact city of 250,000 people and because of its geographical density you are never more than three kilometres from downtown, no matter where you live.
But in spite of its compact form, Vitoria-Gasteiz used to have a twelve-lane roadway that ran right through its heart. Then planners did something other cities only talk about.
They ditched the 12-lane roadway and built a truly multi-mode marvel of design for pedestrians, cyclists, transit users and yes, even car drivers too. This is almost never done, but planners simply looked at what modes of transportation were important in terms of numbers of users and then built infrastructure that works.
A revolution in urban design
Today fully 54 per cent of all trips in Vitoria Gasteiz are taken on foot, one of the best figures anywhere.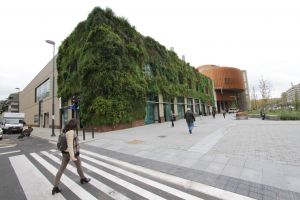 "We redesigned a very high speed traffic avenue into a new river corridor," says Luis Andres Orive, director of the Environmental Studies Centre describing the transformation of Gasteiz Avenue. "There were 12 traffic lanes. We divided it [the public space] in a more democratic way for pedestrians, for bicycles, and also reconstructed the river that was there 40 years ago. That meant a revolution inside the city."
The result is a stunningly walkable, beautiful urban landscape, bustling with pedestrians and natural spaces. With these projects, the city has increased their bicycle trips from one per cent to more than 12 per cent of total trips. Meanwhile, car trips have dropped from 36 to 24 per cent with transit making up the rest.
Energy retrofits – the big energy efficiency prize
Mode shift in transportation is tough, but one of the biggest energy efficiency nuts to crack is renovating old building stock. In Vitoria-Gasteiz, 60,000 homes were built with little or no insulation. These represent the largest energy-saving emissions reduction opportunity imaginable.
To take advantage of it, Vitoria-Gasteiz has embarked on one of the most ambitious home energy efficiency retrofit projects in the world. It aims to retrofit 750 to 1,000 homes in one neighborhood to reduce energy consumption by 75 per cent.
"There is no insulation at all," says Juan Carlos Escudero, director of the Vitoria-Gasteiz Environmental Studies Centre. "We have only brick walls and windows. So the possibilities for improving energy efficiency is really high."
Adding insulation is a no brainer, but the city also plans to install a district heating system for the entire neighbourhood. This involves setting up a biomass heat production facility that links to all the homes in the neighourhood. It has the capability to drastically lower heating costs and emissions. This is not easy to do unless you are retrofitting an entire neighbourhood such as they are doing in Vitoria-Gasteiz.
The average cost of the renovations is expected to be €21,000 ($30,660 Canadian) per home (for façade changes, insulation, exterior work, connection to district heating etc.), but thanks to various programs, each homeowner will pay about €9,600. It's a €29 million project with €6.4 million in EU funding; the balance will come from energy service contractors and homeowners.
---
David Dodge
David was the host and producer of the Green Energy Futures multimedia series.
---