As consultations continue for the Lower Athabasca Integrated Regional Plan (LAIRP), it's time for the Government of Alberta to raise the bar on standards for oilsands development. With this in mind, we've just released a new report that identifies a comprehensive package of environmental policies to reduce the impacts of oilsands operations that can help Alberta improve its international reputation. 
As my previous blog explained, the province's draft regional plan for the Lower Athabasca region has significant gaps. While it acknowledges that objectives must be set for environmental, social and economic outcomes, the plan appears to be undermined by previous development commitments that conflict with the government's ability to protect the public interest.
Solving the Puzzle: Environmental responsibility in oilsands development proposes 19 specific solutions to protect air, land and water and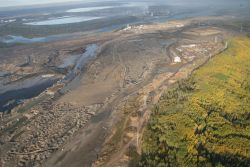 recommends guidelines for establishing a credible approach to reducing greenhouse gas emissions and a world-class environmental monitoring system in the oilsands. The policy recommendations in the report are rigorous but practical — they are consistent with the best available science and have been developed from leading policies in other jurisdiction.
The Pembina Institute has been working on oilsands issues for over 17 years. We've participated in government processes such as the Cumulative Environmental Management Associationfor eight years, and intervened in oilsands regulatory hearings as a member of the Oil Sands Environmental Coalition arguing about environmental management gaps for over a decade.
Today, our enthusiasm for ensuring oilsands development proceeds responsibly and our determination to see the associated environmental impacts addressed is unwavering. We not only see big problems, but also big potential solutions — if there is the will to implement them. The release of this week's report presents an opportune time to reflect on our past work.

Over the years, Pembina has been persistent in our view that the pace, scale and conditions of oilsands development should be driven by environmental outcomes — we have documented numerous solutions in the more than 40 publications we've produced since 2005, covering everything from reclamation liability to best practices for in situ operators.
From protecting the Athabasca River, to demanding the best available technologies to reduce oilsands air pollution, to implementing a policy to protect wetlands — there is no shortage of opportunities to improve the current mismanagement of the oilsands. It's time for the Government of Alberta to rise to the challenge. We look forward to reporting on the uptake of our recommendations in future blogs.

---
Jennifer Grant
Jennifer Grant was the Pembina Institute's associate regional director for Alberta and the North until 2013, and former director of the Institute's oilsands program.
---