In June, the Pembina Institute went to court along with the Alberta Wilderness Association, our lawyers from Ecojustice and three First Nations, to argue that the Government of Canada had illegally refused to recommend emergency habitat protections for woodland caribou in Alberta.
Woodland caribou are declining rapidly in northeastern Alberta as a result of too much industrial development (including oilsands development) within their ranges, and the federal government has a legal responsibility to protect them under the Species at Risk Act.
Yesterday, a decision came down that quashes Environment Minister Peter Kent's refusal to recommend emergency protections for oilsands caribou and sets a firm deadline of September 1 for Minister Kent to release a draft recovery strategy for woodland caribou.
It's an important victory that further raises the stakes in the battle to ensure that oilsands development respects Canada's environmental laws.
From my perspective in the courtroom this June, what was remarkable during the case was the full agreement from both sides on the scientific facts showing that Alberta's caribou are doomed unless their habitat is protected. Canada's evidence even acknowledged that the Government of Alberta has been ineffective at protecting caribou, stating:
Overall, Alberta has not, to date, effectively managed the cumulative effects within caribou range and has not applied appropriate mitigation (e.g., habitat restoration, minimizing footprint) in a coordinated landscape-level approach to conserve caribou. The level of habitat disturbance is above 45% for 12 of the 13 local populations. This level of disturbance is beyond the biologically acceptable threshold for self-sustaining local populations as evidenced by the continued decline of most boreal caribou local populations in the province.
So there is no argument about the fact that regulators in Alberta are turning a blind eye while all Alberta caribou herds go extinct. The case, ironically enough, hinged on whether the imminent threat of losing all caribou herds in Alberta as a result of mismanaged industrial development was significant enough to trigger emergency protections under the Species at Risk Act.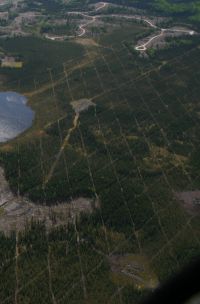 That is the path we're currently on, but you wouldn't know that from reading the public relations materials about wildlife and the oilsands from both the Government of Alberta and industry sources. The Government of Alberta's "Frequently Asked Questions" concerning the decline of woodland caribou in the province also fails to mention the role of industrial development as the ultimate cause of caribou population declines.
In his decision, Federal Court Justice Paul Crampton agreed that it was not apparent how Minister Kent could come to the conclusion that losing all Alberta's herds would not have a serious impact on Canada's (as yet unannounced) recovery goals for woodland caribou, stating that Canada's decision had "come out of the blue".
The lawsuit was also an important victory for the First Nations applicants. In its decision not to recommend an emergency order for caribou, the Government of Canada stated outright that it did not consider the rights of First Nations, an issue Justice Crampton took exception to, stating:
...the Minister clearly erred in reaching his decision by failing to take into account the First Nations Applicants' Treaty Rights and the honour of the Crown in interpreting his mandate ..... The Decision therefore warrants being set aside on that basis alone.
Essentially, the judge has given the Minister of Environment a firm deadline of just over one month to deliver a recovery draft strategy for caribou. Should the minister fail to do so (remember that Environment Canada is already four years overdue with its recovery plan) the Judge has reserved the right to issue a declaration that the minister failed to prepare a recovery strategy for the species within the time period mandated by the Species at Risk Act.
Today we are celebrating an important legal victory that has quashed an unreasonable decision and put Minister Kent on notice that further delays in protecting an iconic species will not be tolerated.Today we are celebrating an important legal victory that has quashed an unreasonable decision from the Government of Canada and put Minister Kent on notice that further delays in protecting an iconic species will not be tolerated. Going forward, there is still need for Canadians to be vigilant to ensure that caribou habitat will finally receive protection in Alberta.
Will the recovery strategy for the herds in northeastern Alberta actually follow the recommendations of Environment Canada's own scientists, which state that the condition of the ranges must be improved? It is not too late for Alberta to strengthen its own draft Lower Athabasca Integrated Regional Plan (LAIRP) to protect a significant amount of caribou habitat — 95 per cent of which has been leased for oilsands development.
Woodland caribou have waited over two decades for meaningful efforts to protect their habitat from unconstrained industrial development. In a month's time we will finally learn how Canada proposes to protect them.
---
Simon Dyer is the deputy executive director of the Pembina Institute. He is based in Edmonton.
---