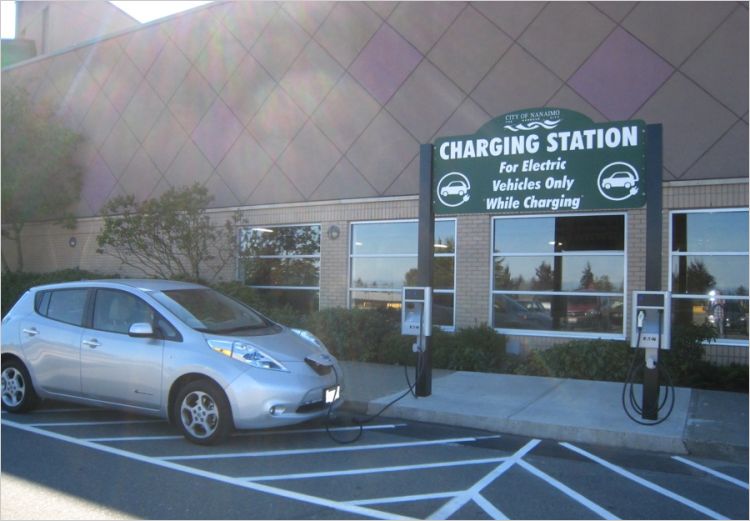 Recently a colleague and I took a road trip — with the future of road trips fully in mind. We travelled 150km along the east coast of Vancouver Island, wondering what the trip would be like if we were in an electric car.
I know from the research I've done with the Pembina Institute that electric vehicles (EVs) can help to significantly lower air pollution and help slow climate change. In order for that to happen a few things need to be in place: electricity needs to come from clean sources, electric vehicles must be affordable, and charging infrastructure has to be available at strategic locations.

We know that British Columbia's electricity is primarily fossil fuel-free and electric vehicles are now available in Canada (with several provinces offering rebates), but if we were in an electric car and had to "fill up the tank" what would we do?
Charging stations for electric vehicles seem to be popping up around the province at a pretty good pace and there are even several websites and apps designed to locate these stations. For this trip, I checked the website "PlugShare" and found nine charging stations, each open to the public, within easy side trips of our main route from Nanaimo to Campbell River. We just had to see them for ourselves.
We found charging stations at a community centre in Nanaimo, a grocery store and City Hall in Qualicum Beach, and the visitors' centre in Comox Valley. Additional charging stations along our route that we didn't see include Nanaimo's conference centre and Port Theater, a Nissan shop in Comox Valley as well as an RV resort and Canadian Electric Vehicles Ltd: a shop that manufactures electric trucks and converts gas-powered cars to electric ones.
We saw cars charging up at four of the stations we stopped at; in fact two EVs pulled up to charge at the community centre just as we were taking some photos.
Our final destination was Campbell River where we ran a workshop attended by a diverse group of community leaders from both business and public sectors. At our EV planning workshop, this group worked together to prioritize locations for the first 10 charging stations in the city and discuss issues such as EV public-private partnerships as well as parking. 
The workshop attendees ended the day aware of the challenges of getting these stations installed but optimistic about the possibilities. Other businesses and communities across B.C. are also in the process of installing charging stations and we're looking forward to helping even more businesses and organizations play a part in developing a charging station network across the province.
My preference is to leave my car at home as much as possible and walking, public transportation and telecommuting are all options for me. But knowing that sometimes a personal vehicle really is the best option for many travel needs, it's great to know that communities and businesses are working now to make EVs part of our transportation future.
---
The Pembina Institute provides research, planning, and outreach services to local governments and businesses interested in electric vehicles and charging stations. More information on Pembina's EV research and services includes:
---
Alison Bailie was a senior advisor doing quantitative analysis for community climate change initiatives, until 2014.
---