Alberta released its draft plan for the Lower Athabasca Region earlier this week, and there was certainly no shortage of drama as commentators digested what it all means — with sometimes comical degrees of accuracy.
Tuesday's breathless headlines — including reports that Alberta oilsands companies were "stunned" by the plan, and a bizarre and factually inaccurate press release by Alberta's Wildrose Alliance Party arguing that protecting land (in an area that has virtually no oil potential) represented a "devastating assault" on the province's economy — have since been followed by more sober assessments.
The latest reports conclude the plan will have very "little impact" on oilsands producers, given that the province has bent over backwards to ensure conservation areas do not conflict with bitumen leases. Indeed, the numbers reveal perhaps less than one per cent of Alberta's bitumen in the Lower Athabasca region might be affected by the proposed conservation areas — which gives you some idea, perhaps, of the Government of Alberta's idea of "balancing" conservation and economic development
A plan for the oilsands is long overdue. Alberta officially launched its work on oilsands environmental management in 1999 with its Regional Sustainable Development Strategy. Twelve years is a long time to wait for a land use plan that deals with cumulative effects, and now it looks like we will have to wait a few years more, as many of the plan's elements are still not complete.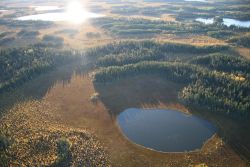 While the need for new protected areas is a critical gap in Alberta's land management and we are pleased this has finally been acknowledged by the provincial government, where these sites are established needs to be guided by science in order to protect the places of highest environmental value, rather than protecting the scraps that are unwanted by the forestry or petroleum sector. About 85 per cent of the protected areas identified by the Government of Alberta have no forestry or oil and gas potential at all, while most sites of conservation importance received no protection.
The Government of Alberta updated its Environmentally Significant Areas mapping in 2009, and it is clear that sites identified as significant — including the Athabasca River, McClelland Lake Fen, Lakeland and caribou ranges — deserve protection. Albertans obviously agree, given that public feedback on the "vision document" for the Lower Athabasca Plan a year ago showed the most common response was calling for more focus on environmental protection (see figure below). In contrast, the government's draft plan ended up going in the opposite direction, being substantially weaker than the recommendations of its own advisory group.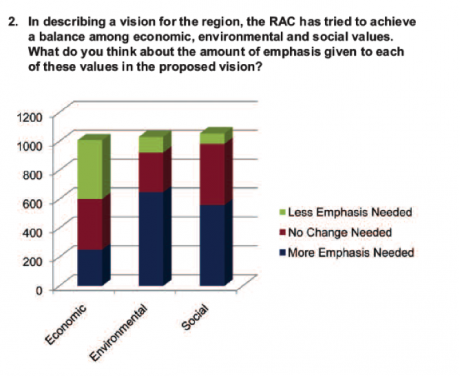 The Pembina Institute warned in 2007 that selling leases before land use planning was complete was a recipe for conflict and would result in costly compensation battles that would cost Alberta taxpayers.
But companies themselves must bear some responsibility for their lack of due diligence. Sunshine Oilsands Ltd. — the company that has spoken out in media reports about the potential loss of their leases — purchased leases in an area that had been nominated for conservation by the Cumulative Environmental Management Association (CEMA) several years ago and is home to the threatened woodland caribou species, which is a declining as a result of industrial activity.
Meanwhile other industry representatives and industry dominated multi-stakeholder groups have noted that the draft plan to protect only 16 per cent of the region doesn't go far enough. Last summer, Suncor argued that at least 20 per cent of the land base should be set aside, the plan's own Regional Advisory Council recommended an additional 26 per cent, while CEMA recommended up to 40 per cent.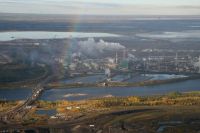 Oilsands companies are in a bind, however, if and when the plan will be strengthened to address the needs of woodland caribou — a question that is completely ignored in the current draft. Investors of most oilsands companies operating in northeastern Alberta should know companies have taken a big gamble by purchasing oilsands leases in critical habitat of declining woodland caribou. Should lawsuits that charge development in these areas is illegal prove successful, or should the federal government step in and enforce the Species at Risk Act, there will be significant ramifications to all existing leases.
The Lower Athabasca Regional Plan has pushed back the tough decisions on protecting caribou habitat for another two years, still offers no protection for the Athabasca River during low flows, is proposing to allow logging in some conservation sites and has not set limits on oilsands development demanded by advisory bodies for over three years. Given these facts, it seems Alberta is a long way from having a plan that will stand up to international scrutiny.
As we argued in a media release, despite industry protests to the contrary, the draft plan is still too skewed in favour of oilsands development, and there is a need to let independent science guide oilsands management in the same way the provincial and federal governments have now admitted that monitoring needs to be driven by science, rather than industry interests.
---
Jennifer Grant
Jennifer Grant was the Pembina Institute's associate regional director for Alberta and the North until 2013, and former director of the Institute's oilsands program.
---