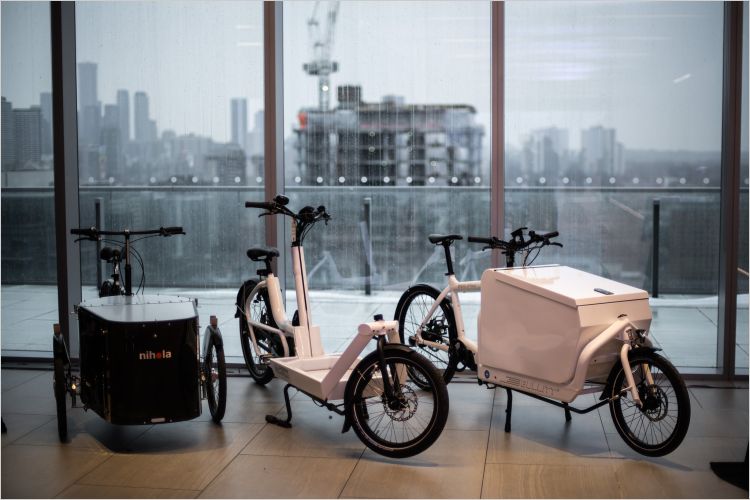 As the number of home and office deliveries skyrockets during the COVID-19 pandemic, many businesses are either testing or looking into cargo bikes for last-mile deliveries, particularly in dense, congested urban areas,  to reduce transportation carbon emissions and increase efficiency. Two of those businesses are partners in our Urban Delivery Solutions Initiative: UPS, which tested cargo bikes in Toronto, and Purolator, in Montreal. 
However, there are some hurdles that must be overcome to get more of these bikes on our city streets to improve air quality and climate health for all. That may happen sooner than we think: In today's City of Toronto Infrastructure and Environment committee meeting, council members approved recommendations to substantially address barriers to cargo bike adoption, brought forward by Councillor Mike Layton. 
Current e-bike regulations are slowing motion
At all three levels of government in Canada, regulations do not specifically define cargo bikes. By default, they usually fall into the "bicycle" category, defined as being propelled solely by muscle power. Cargo bikes, however, typically require some form of propulsion assistance from an electric motor to be an effective mode for goods movement. Cargo bikes equipped with an electric motor are usually considered e-bikes, and are regulated as such. The challenge, however, is that regulations throughout Canada fail to differentiate between the very different types of e-bikes (pedal- or throttle-assist, scooter-style, and so on) — which creates confusion on where and how they can be used. This lack of clarity and consistency has made businesses understandably hesitant to invest in e-cargo bike fleets. Here's a look at the regulatory barriers, and solutions being considered today at Toronto's Infrastructure and Environment committee:
The definition problem:
Currently, there is a lack of consistency between provincial and municipal definitions of e-bikes, creating confusion and discouraging businesses from scaling up the use of e-cargo bikes across different cities, or even provinces. To address this, it will be important for the Ontario Ministry of Transportation and the City of Toronto, along with other municipalities, to work together to develop e-bike definitions and regulations. 
The solution:
Toronto City Council should request the Ontario Ministry of Transportation review and revise its definition of a power-assisted bicycle to differentiate between e-bike types, including cargo e-bikes, and work with municipalities to ensure definitions are consistent across jurisdictions so businesses feel confident scaling up their use of cargo bikes.   
The rule problem:
One source of confusion in existing bylaws is the lack of clarity between different types of e-bikes and the rules that apply to their use. Regulatory clarity is needed to differentiate between e-bike types and usages, to ensure the safety of all road users. Luckily there's no need to reinvent the wheel, so to speak. The city can look to existing classification systems that have been adopted in Europe and in some states in the U.S. for guidance.
The solution:
The City of Toronto should clarify the differences between e-bike/cargo e-bike types, and the infrastructure that they are permitted to use (e.g. cycle tracks, painted bike lanes, and multi-use trails), ensuring this is in line with the Ontario government's new definitions, when they are developed as an outcome of the first recommendation. 
The weight problem:
Currently, the City of Toronto has a 40 kg weight restriction on pedal-assist bike use on the city's cycle tracks, which means that cargo e-bikes that weigh in over that threshold won't have full access to Toronto's cycling network. Removing this restriction will lift a major barrier for courier companies and position pedal-assist cargo e-bikes as a serious alternative to delivery vans, especially for last-mile deliveries. 
The solution:
Remove the 40 kg weight restriction on pedal-assist (pedelec bikes, which require pedalling for the electric motor to engage) cargo bikes to allow usage on the city's cycle tracks. 
Pedalling toward a healthier future 
With the implementation of the City of Toronto's ActiveTO initiative, cycling infrastructure is expanding across the city (e.g. bikeways on University Avenue, Dundas Street East, and Bloor Street/Danforth Avenue). It's time to include cargo bikes and goods movement in this thinking. Now that the recommendations have been supported by the Infrastructure and Environment Committee, we hope they are met with similar approval at the next city council meeting on July 28. This would be a huge turning point for e-bike and e-cargo bike use in Toronto, supporting a more sustainable urban freight sector, while helping to alleviate congestion and improve air quality.
Toronto has the potential to be a leader in urban freight, by demonstrating that a safer, less congested, healthier city is possible. 
---
Janelle Lee
Janelle was an analyst with the the Pembina Institute's Transportation and Urban Solutions team, based in Toronto, until 2021.
---