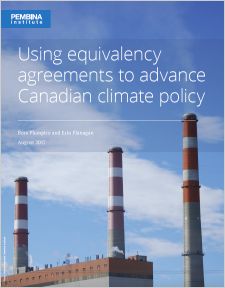 This report explores the function and historical significance of equivalency agreements established under the Canadian Environmental Protection Act, 1999, and makes recommendations regarding their future use under the Pan-Canadian Framework on Clean Growth and Climate Change. 
The Pan-Canadian Framework is Canada's first truly national climate plan, and has set Canada on course to reach our 2030 national emissions target. But in order for the Framework to fulfil its potential and move the country towards deeper decarbonization by mid-century, governments must implement its numerous measures swiftly while maintaining policy integrity. As provinces and territories search for ways to adapt federal climate policy to their own circumstances, EAs will play an increasingly important role across a number of critical measures, including in reducing methane emissions and the national phase-out of coal-fired power.
Also included in this report is a set of documents the Pembina Institute has gained access to through a request under Alberta's Freedom of Information and Protection of Privacy Act, covering a period from September 2012 to April 2014. The documents include briefings to Alberta's Minister of Environment and correspondence between the provincial department and ECCC (then Environment Canada). They reveal the complex character of the province's equivalency negotiations, including Alberta Environment's general assessment of the federal government's approach (under former Prime Minister Stephen Harper) to regulating GHGs.