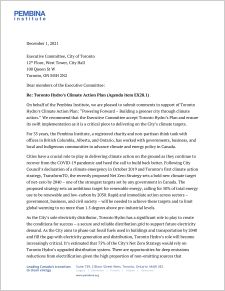 On behalf of the Pembina Institute, we are pleased to submit comments in support of Toronto Hydro's Climate Action Plan: ''Powering Forward – Building a greener city through climate action.'' We recommend that the Executive Committee accept Toronto Hydro's Plan and ensure its swift implementation as it is a critical piece to delivering on the City's climate targets.
We support Toronto Hydro's efforts to improve social equity and work with key partners and stakeholders to address concerns around the affordability and accessibility of climate solutions. For instance, Toronto Hydro's proposed "Green Choice Customer Assistance Program" would allow the utility to provide low- or no-cost retrofits and electrification solutions for renters in low-income multi-unit residential buildings in partnership with organizations such as Toronto Community Housing Corporation and the Greater Toronto Apartment Association. Moreover, the utility has identified strategies to increase the availability and accessibility of EV chargers in underserved neighbourhoods. Collectively, we believe these actions will support a just and prosperous future for all Torontonians.
We look forward to seeing concrete steps taken to immediately implement Toronto Hydro's Climate Action Plan. We encourage Toronto Hydro to continue engaging key stakeholders. We would be pleased to continue working with the utility to support next steps.