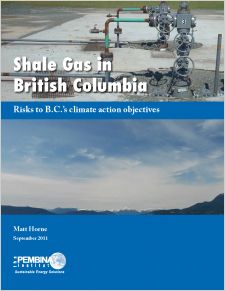 This report provides an overview of the greenhouse gas emissions produced by British Columbia's natural gas sector.
It estimates that the anticipated emissions in 2020, accounting for current and proposed climate action policies as well as the anticipated shift to shale gas, could well exceed the province's goals as promised under its Climate Action Plan.

There are a number of general opportunities available to reduce  emissions from the natural gas sector and the report makes several recommendations for ways in which the province can improve its planning and regulatory framework for shale gas development to enable development to align with the province's climate objectives.