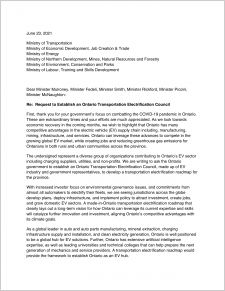 Pembina Institute is a signatory in an open letter to the Ontario government, requesting the establishment of an Ontario Transportation Electrification Council and roadmap.
In an open letter to the ministries of transportation, economic development, energy, northern development, and labour, a coalition of private and non-profit organizations are requesting that the province establish an Ontario Transportation Electrification Council to develop a vision and implementation plan for the electrification of Ontario's transportation sector. The council would be made up of representatives from the electric vehicle (EV) industry and government. 
Ontario has numerous competitive advantages in the EV supply chain, including strong manufacturing and mining sectors, extensive infrastructure, and a well-developed network of services. The province can leverage these advantages to compete in the growing global EV market, while creating jobs in rural and urban communities across the province and reducing greenhouse gas emissions.
A long-term vision for how Ontario can best deploy resident expertise and skills will catalyze both innovation and additional investments, aligning Ontario's competitive edge with climate goals. Ontario's leading universities and technical colleges can help prepare the next generation of mechanics and service providers as well as offer opportunities for the growing number of residents with expertise in the artificial intelligence field.
The development of a comprehensive transportation electrification roadmap would provide a framework to advance Ontario as an EV hub. The province has a clear opportunity to establish its leadership in the emerging global market for EV solutions by bringing together key players from government and industry under the umbrella of an Ontario Transportation Electrification Council. 
Coming up: A new report analyzing the growth potential for Ontario's EV economy, including a forecasting of the sector's potential contribution to economic recovery and job creation.