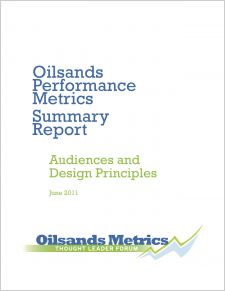 The Oilsands Performance Metrics Summary Report summarizes input from 60 thought leaders who attended the Oilsands Metrics Thought Leader Forum on May 3, 2011 in Calgary, Alberta. It incorporates additional input collected from participants at three follow-up webinars in June 2011.
The report summarizes 11 key audiences for oilsands performance metrics and details three key design principles of a successful system: oilsands metrics will have to be relevant, accurate and credible. It will also:
cover environmental, social and economic factor
allow for benchmarking across companies, projects or regions
allow companies to be held accountable to compliance and performance targets
allow for the evaluation of a company's social licence to operate.
This report discusses and makes recommendations on the key design principles for oilsands performance metrics and provides examples of existing and emerging performance metrics initiatives. The report also explains the needs of the audiences in detail.
The report was prepared by: The Pembina Institute, the Institute for Sustainable Energy, Environment and Economy (ISEEE) and Deloitte.