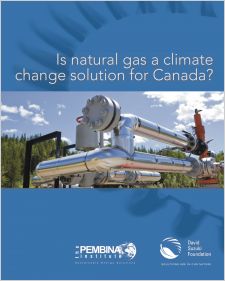 Our energy systems must change if we are to combat climate change. Many people are asking whether natural gas can play a role as a "bridging" fuel that enables near-term reductions in the greenhouse gas emissions responsible for climate change.

This report explores the role of Canada's federal and provincial governments in shaping future production and use of natural gas in consideration of both the climate and non-climate environmental impacts, and offers recommendations.
- - - - - - - -
Nos systèmes énergétiques doivent changer si nous voulons combattre le changement climatique. Plusieurs se demandent si le gaz naturel peut jouer un rôle de combustible « de transition » qui permettrait des réductions à court terme des émissions de gaz à effet de serre responsables du changement climatique.

Le présent rapport a pour objet d'examiner le rôle des gouvernements fédéral et provinciaux du Canada en ce qui concerne l'orientation à donner à la production et à l'utilisation futures du gaz naturel compte tenu des impacts environnementaux, climatiques et autres. Le rapport avance une série de recommandations.