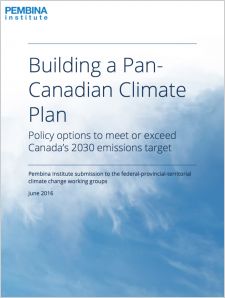 Canada's first ministers have made a commitment to establish a pan-Canadian climate plan that allows the country to meet or exceed its 2030 climate goal.  To achieve this goal, we recommend the federal government, in cooperation with the provinces and territories, promptly introduce new legislation, regulations and policies to reduce greenhouse gas emissions across all sectors of the economy.
New policies could include a national approach to carbon pricing and other mitigation policies in transportation, buildings, electricity, oil and gas, and government decision-making. Taken together, we believe these policy recommendations will allow Canada to substantially reduce its greenhouse gas emissions, and represent a credible approach to tackling climate change for the country.
An addendum to this submission can be found here. The addendum details an opportunity for Canada to demonstrate leadership in the transportation sector by supporting the development of North America's first low carbon highway.