Published in La Presse (Oct. 30, 2021)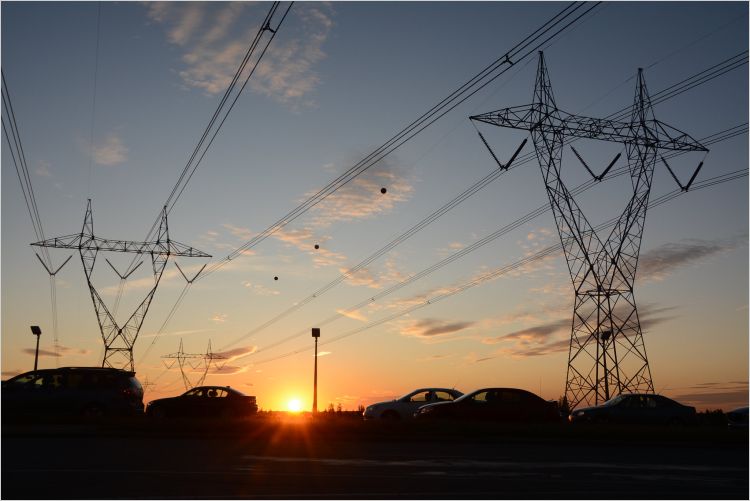 To set the stage for a constructive UN Climate Change Conference (COP26) in Glasgow, the International Energy Agency released its World Energy Outlook 2021 report highlighting four key measures countries must take to close the gap between the amount of emissions that will be reduced under current plans and the amount of emissions that need be reduced to achieve the goal of net-zero emissions by 2050, also referred to as the "emissions gap."
At COP26, nations will be measured against the IEA's four imperatives. As the climate conference begins, what is in place in Canada in these four crucial areas?
Imperative #1
According to the IEA report, ''accelerating the decarbonisation of the electricity mix is the single most important lever available (…) and it closes more than one-third of the emissions gap.'' The Liberals have committed to achieving a net-zero electricity grid by 2035. At COP26, and as a founding member of the Powering Past Coal Alliance, Canada has an opportunity to demonstrate leadership. The federal government's commitment to phasing out coal by 2030 is an essential part of transitioning to the promised clean energy grid. Critically, the source of energy that provinces will use to replace coal-fired generation will shape the electricity sector for decades to come. It will also be a central pillar in decarbonizing transportation, buildings, and industry provided that the alternatives to coal are non-emitting. The IEA report notes that timing the switch to clean electricity as coal is phased out can protect consumers against oil and gas price shocks.
Imperative #2
Electrification and energy efficiency go hand-in-hand in driving down greenhouse gas (GHG) emissions while, at the same time, demand for electricity rises. Indeed, the IEA calls for "a relentless focus on energy efficiency" with the goal of decreasing the energy intensity of the global economy by at least four per cent annually between 2020 and 2030. The Liberals made welcome commitments to increase energy efficiencies in buildings and launched a National Net-zero Emissions Building Strategy. COP26 would be an opportune moment for the government to present more details on the investments and measures required to meet this objective. While in Glasgow, Canada can also capitalize on learnings from other nations on how to drive deep decarbonization in the industrial sector, where strategies to achieve greater efficiencies are equally essential to meeting our climate goals. By keeping demand for energy in check, the transition to net-zero can be made more affordable. 
Imperative #3
The IEA states that rapid reductions in methane emissions (a powerful GHG) are essential to bringing down emissions contributing to global warming. Tackling these emissions in the oil and gas sector, which offers ''the most cost-effective abatement opportunities,'' could close the emissions gap by nearly 15 per cent. Recently, the federal government committed to reducing methane emissions by at least 75 per cent below 2012 levels by 2030 and signed on to the U.S.-EU pledge to cut all methane emissions by 30 per cent by 2030.  Our new ministers can use that commitment to take the lead in encouraging other nations to make similar commitments. This is also the moment to lay the groundwork for close collaboration with the U.S. on methane reduction and demonstrate the enormous advantage of cross-border initiatives that scale up the impact of joint climate action.
Imperative #4
According to the IEA, half of the reductions to net-zero by 2050 "come from technologies that today are at the demonstration or prototype stage." The federal government has developed a strategy to incorporate hydrogen fuel into the energy mix and pledged that a carbon capture and utilization (CCUS) strategy and industrial decarbonization strategies (including sectors such as cement, steel, and oil and gas where hydrogen and CCUS are poised to play a role) are forthcoming. When it comes to decarbonizing the oil and gas sector, in particular, Canada needs to fill a fundamental gap. The IEA's 1.5 scenario, which offers a representation of a future where fossil fuel use is significantly reduced, has transformed the global energy conversation in recent months. Canada's Energy Regulator, however, has yet to include a similar scenario in its reports on the country's energy future – a critically important tool for analyzing the risks and opportunities associated with the transition to a global low-carbon economy and the impact on the oil sector. Canada must plan for this significant market change, already well underway, and profound economic transition, so that programs and policies are people-centred, providing for equity measures and inclusivity. Public investments, in turn, must support growing industries, not industries in decline.
The importance of the climate conference cannot be overstated. Nations have an imperative to close the emissions gap for a 1.5 degree future. The next two weeks will test Canada's ability to show up as a climate leader in the international arena and confirm it means business on closing its own emissions gap towards its 2030 reduction target.
---
French version as appeared in La Presse
Quatre mesures clés pour le Canada
À la COP26, on verra les nations se mesurer à ces quatre impératifs. Qu'est-ce qui est en place au Canada dans ces quatre domaines cruciaux ?
L'électrification propre
Selon l'AIE, l'accélération de la décarbonation du mix électrique est le levier le plus important et pourrait combler plus d'un tiers de l'écart d'émissions. Le gouvernement fédéral s'est engagé à obtenir un système d'électricité carboneutre d'ici 2035. À la COP26, et en tant que membre fondateur de l'Alliance : Énergiser au-delà du charbon, le Canada a l'occasion de démontrer son leadership. Alors que l'engagement du gouvernement fédéral à éliminer progressivement le charbon d'ici 2030 est une étape essentielle de la transition vers le système promis, la source d'énergie que les provinces utiliseront pour remplacer les centrales au charbon façonnera le secteur de l'électricité pour les décennies à venir. Elle sera également un pilier central de la décarbonisation des secteurs du transport, des bâtiments et de l'industrie – à condition que les solutions de remplacement du charbon ne produisent pas d'émissions. De plus, le passage à l'électricité propre au moment de l'élimination progressive des combustibles fossiles, note l'AIE, peut protéger les consommateurs contre le choc des prix du pétrole et du gaz.
L'efficacité énergétique
L'électrification et l'efficacité énergétique vont de pair pour réduire les émissions de gaz à effet de serre (GES) et gérer l'augmentation de la demande en électricité. L'AIE appelle à mettre l'accent « sans relâche » sur l'efficacité énergétique pour réduire l'intensité énergétique de l'économie mondiale d'au moins 4 % annuellement entre 2020 et 2030. Les libéraux fédéraux se sont engagés à lancer une stratégie nationale pour rendre les bâtiments carboneutres ; peut-être verrons-nous à Glasgow le gouvernement présenter plus de détails sur les investissements et mesures nécessaires à cet objectif. L'atteinte des objectifs climatiques exigera aussi une amélioration de l'efficacité énergétique dans le secteur industriel. À Glasgow, le gouvernement pourra aussi tirer parti des leçons apprises par d'autres pays sur la façon de favoriser une décarbonisation profonde de l'industrie. La gestion de l'augmentation de la demande d'électricité est essentielle pour maintenir la transition énergétique propre abordable.
Les émissions de méthane à réduire
L'AIE affirme que des réductions rapides des émissions de méthane (un GES puissant) sont essentielles pour maintenir un climat stable. S'attaquer au méthane dans le secteur pétrolier et gazier, qui offre les possibilités de réduction les plus rentables, pourrait combler l'écart d'émissions de près de 15 %. Les libéraux se sont engagés à réduire les émissions de méthane d'au moins 75 % par rapport aux niveaux de 2012 d'ici 2030 et ont confirmé leur soutien à l'engagement mondial sur le méthane (qui vise une réduction de 30 % des émissions mondiales de méthane provenant du secteur pétrolier et gazier, de l'agriculture et des sites d'enfouissement d'ici 2030). Lors de la COP26, le Canada pourra s'appuyer sur ces engagements pour encourager d'autres à faire de même. Ça sera également le moment de jeter les bases d'une collaboration étroite avec les États-Unis et de démontrer l'énorme avantage des initiatives transfrontalières pour l'action climatique.
L'innovation technologique
Selon l'AIE, la moitié des réductions pour atteindre la carboneutralité d'ici 2050 proviendra de technologies qui sont aujourd'hui au stade de la démonstration ou du prototype. Le gouvernement fédéral a élaboré une stratégie visant à intégrer l'hydrogène dans le bouquet énergétique et a promis une stratégie sur le captage, l'utilisation et la séquestration du carbone, qui joueront un rôle dans la décarbonation de secteurs industriels comme le ciment, l'acier, le pétrole et le gaz.

Pour permettre des décisions éclairées dans le secteur pétrolier et gazier, le Canada doit d'abord combler une lacune importante. Le scénario de carboneutralité de l'AIE, qui offre une représentation d'un futur dans lequel l'objectif de Paris est atteint et l'utilisation des combustibles fossiles est diminué considérablement, a transformé la conversation énergétique mondiale au cours des derniers mois. Or, la Régie de l'énergie du Canada n'inclut toujours pas de scénario similaire dans ses rapports sur l'avenir énergétique du pays – un outil essentiel pour analyser les risques et les opportunités liés à la transition vers une économie globale à faible carbone et l'impact sur le secteur pétrolier. Le Canada a de la planification à faire pour cette transition dans les marchés énergétiques, déjà bien entamée, et cette profonde transition économique en appuyant des secteurs en croissance, et non en déclin, et en axant ses politiques sur les travailleurs en prévoyant des mesures d'équité et d'inclusion.

On ne saurait trop insister sur l'importance de la COP26. Les deux prochaines semaines mettront à l'épreuve la capacité du Canada à se présenter comme un chef de file en matière de climat et à combler son propre écart d'émissions vers sa cible de réduction pour 2030.
---
Isabelle Turcotte
Isabelle Turcotte was the director of federal policy at the Pembina Institute until 2022.
---