Published in Policy Options (February 13, 2017)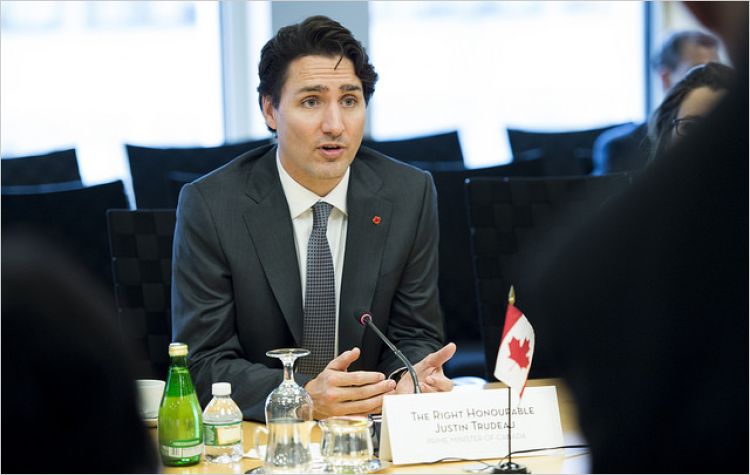 As Prime Minister Trudeau meets with President Trump for the first time today, there is little doubt that their nascent relationship represents a study in contrasts. Trudeau is a quarter century Trump's junior and champions a "new-world" set of political ideas anchored in internationalism and cooperation. Trump's methods are rooted in "old-world" thinking – closed and protectionist, driven by fossil fuel interests, and decoupled from science and evidence – a style of working that no doubt makes Trudeau and his team nervous.
Despite their significant differences, it's worth considering the substantial interests that Canada and the United States share. Both nations have a strong clean energy foundation from which they can build. The North American Leaders' Summit last June delivered significant commitments, including expanding clean energy to generate half of the continent's power, reducing oil and gas methane pollution, and accelerating continental clean energy innovation. And, thankfully for both leaders, the case for climate action is inching beyond partisan politics. The dramatic expansion of non-hydro renewable energy in the United States – now exceeding 10 per cent of the nation's power sector – has been driven in part by growing clean energy sectors in typically conservative states like Texas, Oklahoma, Kansas, North Dakota and Arizona.
While this path offers clear environmental benefits, it also presents enormous economic advantages for both Canada and the United States. In addition to reducing carbon pollution, building an integrated clean energy economy will increase the availability of clean energy jobs on both sides of the border, driving economic growth and creating new business opportunities across North America. Continued support for policies fostering the development and deployment of clean technologies will build our nations' competitive advantage in a global economy transitioning away from fossil fuels.
But while Trudeau might prefer to quietly hope that Trump doesn't derail climate progress, it would be a profound mistake to be silent on this issue. This is an important moment for the U.S. and Canadian climate partnership, one in which Trudeau has an opportunity to exert pressure as the new U.S. administration determines its direction. Trudeau's team appears convinced it should handle Trump with kid gloves rather than overtly criticize – but they should also recognize that this cautious approach does not exclude strategic diplomacy on climate issues.
In this vein, Trudeau must ask today about Trump's intention to follow through on implementation of the Paris Agreement, a landmark global climate deal. Further, he should probe for assurances that the U.S. administration will remain engaged in bilateral cooperation on climate and clean energy – especially areas of harmonized regulation, like vehicle efficiency and oil and gas methane. Going forward, Prime Minister Trudeau should ensure his front bench – especially Ministers Chrystia Freeland, Catherine McKenna and Jim Carr – raise international and bilateral climate policy implementation at every opportunity with their counterparts. 
With this approach, Trudeau can reinforce that climate action is a high global priority and that there will be international consequences if the U.S. backslides. Trudeau's public statements following his meeting with Trump should re-affirm Canada's interest in working with both federal and state-level partners to implement existing commitments and expand North America's clean energy economy. Highlighting climate action during this visit will solidify Trudeau's domestic climate agenda by reducing speculation that Canada will roll back policy commitments in light of the U.S. administration's stance on climate change.  
Canadians are proud of the country's new approach to climate change, and Trudeau should protect that emerging legacy by doubling down. This requires he affirm Canada's commitment to the Paris Agreement and articulate a hope for continued partnership with the United States on low carbon economic development.  
Conservatives and progressives alike have many reasons to support a clean growth agenda. While Trudeau and Trump undoubtedly have policy points on which they will disagree, the clean growth agenda does not need to be one of them. But climate partnership isn't a guaranteed outcome: to make it so, Trudeau must use today's meeting to set an early expectation of continued bilateral progress and to be a strategic (if cautious) ambassador for global climate cooperation.

Erin Flanagan is the director of Pembina Institute's federal policy program. Anthony Swift is director of the Canada Project at the Natural Resources Defense Council (NRDC).
---
Erin Flanagan
Erin was the director of the Pembina Institute's federal policy program, specializing in climate policy and environmental assessments, until February 2018.

---