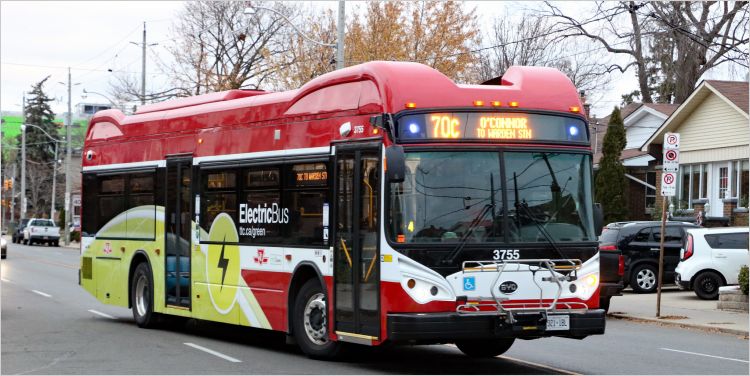 TORONTO — Carolyn Kim, director of transportation at the Pembina Institute, made the following statement in response to the federal government's announcement of $14.9 billion to fund public transit projects:
"The announcement of new funding for public transit, including support for zero-emission transit vehicles and cycling infrastructure, is welcome as it is a crucial part of decarbonizing transportation in Canada on pathways to net-zero emissions by 2050.
"Emissions from Canada's transportation sector currently account for 25 per cent of the country's total emissions and efforts to reduce them — which include public transit use and the shift to low-carbon modes of transport such as cycling and zero-emission vehicles — are important to ensure we are building healthier, sustainable and less congested cities.
"The Pembina Institute has applauded similar announcements, such as $1.5 billion from the Canada Infrastructure Bank to accelerate the adoption of zero-emission buses, and has called for such support as a way to build Canada's economy back better in the wake of COVID-19.
"Considering the loss of transit revenue during the pandemic, we are hoping this new funding, especially the permanent funding of $3 billion per year starting in 2026-2027, helps to secure the future of public transit by supporting ongoing operations, accelerating investments in electrification of transit and getting critical repairs back on track. The commitment to support transit in rural, remote, and Indigenous communities is also welcomed, so that all Canadians have access to frequent, reliable and affordable transit that serves their needs.
"Support for public transit needs to be permanent and delivered hand-in-hand with efforts to decarbonize Canada's transportation sector, including broader efforts to shift to zero-emission vehicles. This shift includes transit, passenger and freight vehicles. While there is more to be done within the transportation sector, overall, this announcement is good news for the environment, the economy and the quality of life of Canadians."
Quick facts 
Emissions from Canada's transportation sector account for 25 per cent of total emissions. Since 1990, carbon emissions from transportation have been on the rise, more than any other sector.   
Most recent figures show transportation as a high source of GHG emissions in major Canadian cities: Metro Vancouver (45 percent); Ottawa (44 per cent); Montreal (40 per cent); Greater Toronto and Hamilton Area (34 per cent); Calgary (33 per cent); and Edmonton (31 per cent).
Canada's current ZEV sector employs about 10,000 workers but with stronger policy is projected to grow to 1.1 million by 2040.  
Reducing overall transportation-related emissions means shifting to low- and zero-emission vehicles (from e-bikes to electric cars and trucks) and reducing single occupancy trips. 
Government funding, policies and incentives led by both government and industry, can promote a transition to a low-carbon transportation sector. 
-30-
Contact
Eva Salinas
Senior communications lead, Pembina Institute
416-220-8804
evas@pembina.org
Background
Report: Building a zero-emissions goods-movement system: Opportunities to strengthen Canada's ZEV freight sector
Report: Power Play: Canada's role in the electric vehicle transition
Publication: Green Stimulus: Principles and recommendations for a 2020 economic stimulus package
Submission: Creating regulations that allow for greater use of e-bikes and cargo e-bikes
About the Pembina Institute
The Pembina Institute is a non-profit think-tank that works to advance a prosperous clean energy future for Canada through credible policy solutions that support communities, the economy, and a safe climate. We have offices in Vancouver, Calgary, Edmonton, Toronto, and Ottawa. Learn more: www.pembina.org