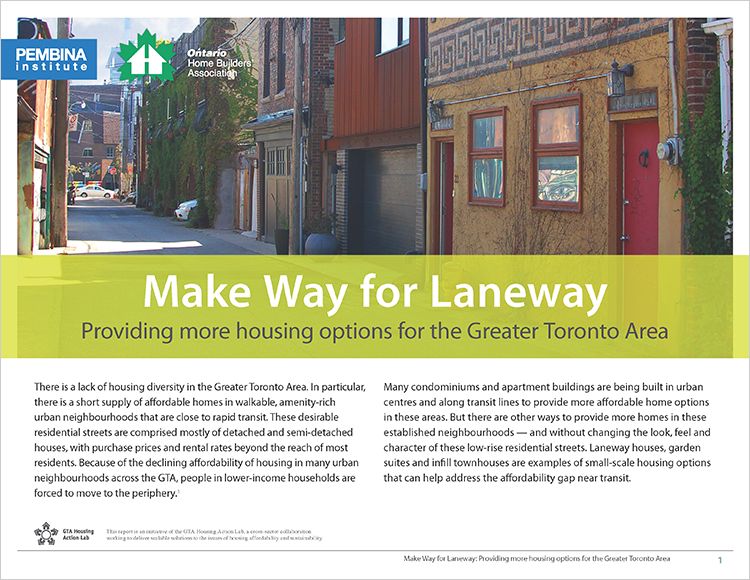 TORONTO — Allowing more small-scale housing units in established neighbourhoods would increase the supply of affordable housing options and help local businesses, according to a new report from the Pembina Institute and the Ontario Home Builders' Association.
Make Way for Laneway shows that the population of some older neighbourhoods in the Greater Toronto Area (GTA) is actually shrinking as residents age and their children move out. Introducing more small-scale housing options in these established neighbourhoods would keep the population stable, which in turn provides the customers that local businesses need to thrive.
The report highlights four solutions to the obstacles faced by infill developments in these areas. Implementing these solutions would allow small-scale housing to reach its potential in the GTA and help address the region's affordability gap.
Quick facts
There are 250 kilometres of laneways in Toronto, which provide many opportunities for new developments that blend into existing neighbourhoods.
Small-scale housing includes basement apartments, attic apartments, granny suites and infill townhouses. Unfortunately, zoning bylaws and restrictions often impede the development of these housing options.
Other cities have made more progress. One-fifth of rental housing in Vancouver now consists of secondary suites, comprising more than 26,000 units.
Quotes
"The GTA already has many older, established neighbourhoods with excellent walkability and transit access. By creating more small-scale housing in these areas, we provide new housing options that keep the look and feel of low-rise residential streets."
— Nithya Vijayakumar, Senior Advisor, Pembina Institute
"We have solutions available to create more small-scale affordable housing in the GTA, but those housing options can't be built in many neighbourhoods. By clearly communicating design guidelines and adjusting zoning restrictions, we can make more infill development possible."
— Mike Collins-Williams, Director of Policy, Ontario Home Builders' Association
-30-
Visit the Pembina Institute's website to download a copy of Make Way for Laneway.
Contact
Mike Collins-Williams
Director of Policy, Ontario Home Builders' Association
647-255-3877
Nithya Vijayakumar
Senior Advisor, Pembina Institute
647-478-9563 ext. 213
Kelly O'Connor
Communications Lead, Pembina Institute
416-220-8804
Kathryn Segal
Communications Officer, Ontario Home Builders' Association
647-255-3875
Background
Report: Make Way for Mid-Rise