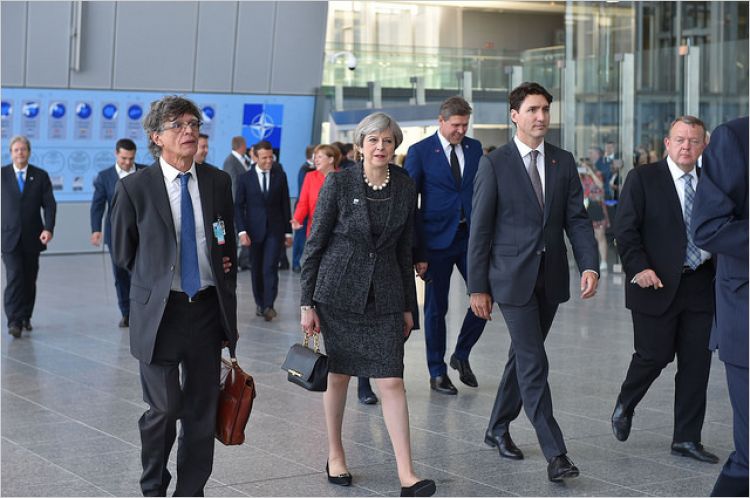 OTTAWA — Erin Flanagan, federal policy director at the Pembina Institute, made the following statement in response to the outcomes of today's bilateral Canada-UK meeting in Ottawa:
"Today, Canada and the United Kingdom took an important step forward in the fight against climate change. Both prime ministers agreed to ongoing bilateral cooperation on climate change, clean growth and renewable energy. Both leaders also announced a broader Memorandum of Understanding on Science, Technology and Innovation.
"The UK and Canada are leading the world in the transition away from coal-fired power. Both countries have national coal phase-out policies in place: in November 2016, Canada committed to a national phase-out of coal-fired power by 2030, and, one year prior, the UK announced it would transition away from coal pollution by 2025. Both Canada and the UK will deliver specific policy measures to implement their respective goals later this year. 
"Canada and the United Kingdom are perfectly positioned to share approaches to ensure their electricity sector transitions deliver long-term environmental and economic benefits. Because of Canada and the UK's leadership, all OECD countries and regions will feel increased pressure to decarbonize their electricity mix — a core requirement for successful implementation of the Paris climate deal.
"Through technical cooperation, both countries' can learn from the significant expertise of leading sub-national jurisdictions ­— especially Alberta and Ontario. We congratulate both prime ministers today on this important announcement, and look forward to supporting ongoing Canada-UK clean energy dialogues."
-30-
Contact

Erin Flanagan
Program director, federal policy
587-581-1701
Kelly O'Connor
Communications lead
416-220-8804
Quick facts
A national phase-out of coal-fired power by 2030 will avoid 1,008 premature deaths, 871 emergency room visits, and produce nearly $5 billion in benefits between 2015 and 2035.
Coal-fired power represents over 70% of emissions in Canada's electricity sector, while providing only 11% of the country's electricity.
The electricity sector is responsible for approximately 12% of Canada's greenhouse gas emissions.
Currently, there are 35 coal power units across Canada, in Alberta, Saskatchewan, Manitoba, New Brunswick and Nova Scotia
According to the Government of Canada, in 2014, coal plants were 10 of  the top 17 sources of sulphur dioxide in Canada, 10 of the 14 top sources of  nitrogen oxides, and 3 of the top 5 sources of mercury.   
Background
Report: Out with the coal, in with the new (November 2016)
Blog: Because it's 2016: Time for Canada to put coal-fired power in the history books (November 2016)
Report: Breathing in the benefits: How an accelerated coal phase-out can reduce health impacts and costs to Albertans (September 2016)
Submission: Modernizing Canada's electricity systems: A pan-Canadian electrification strategy to cut carbon pollution (July 2016)
Report: A costly diagnosis: Subsidizing coal power with Albertans' health (March 2013)