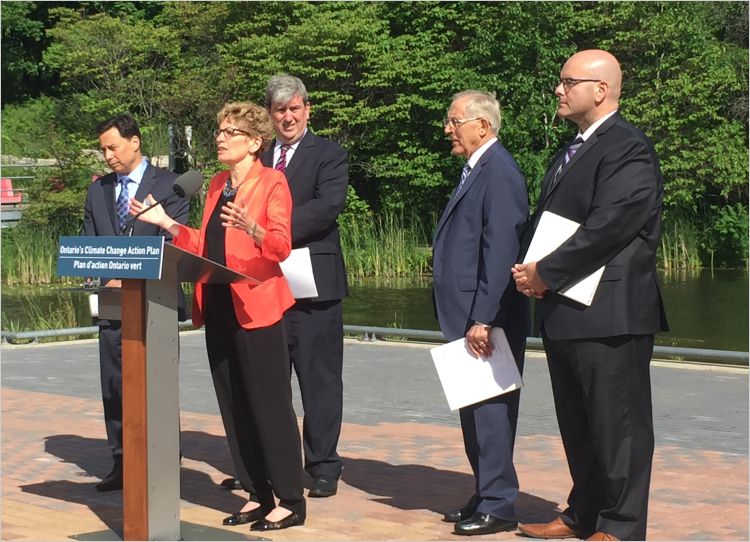 TORONTO – Eli Angen, Ontario director at the Pembina Institute, made the following statement in response to the launch of Ontario's Climate Change Action Plan:
"We are excited to see the details of Ontario's ambitious carbon reduction plan. Implementing cap-and-trade was a great first step, but achieving our climate goals was always going to require a lot of heavy lifting from complementary actions.
"Including ambitions like aiming for new homes to be net zero carbon by 2030 is a clear indicator that the government is grappling with the tough choices required to reach our 2020, 2030, and 2050 targets. By having this conversation now, Ontario will be in a better position to capture the innovation and growth potential of our clean energy future.
"We're also happy to see the government propose bold actions in the transportation sector. Through a host of measures, the government is helping people reduce their reliance on fossil fuels for transportation. This includes support for purchasing EVs, the expansion and electrification of transit, and increased spending on cycling infrastructure. These actions carry through to the freight sector, including cutting life cycle fuel emissions and providing support for fuel switching. Top of mind going forward is the need to fully fund the Big Move – the additional funding in the action plan is welcome, but a gap still remains.
"By providing both the ambition, and the required support to businesses and consumers, this is a bold step towards our climate goals. We look forward to working with the government to ensure effective implementation."
-30-
Contact
Eli Angen
Ontario Director
647-982-5508
Kelly O'Connor
Communications Lead
416-220-8804
Background
Blog: Building Ontario's low carbon economy (May 2016)
Reacts: Pembina reacts to Ontario's new climate change legislation (February 2016)