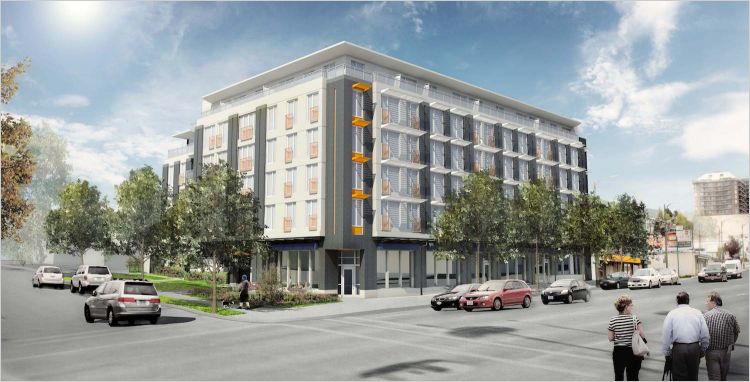 (Update: Vancouver is ground zero for low-carbon buildings boom in North America)
VANCOUVER / COAST SALISH TERRITORY — What do the low-carbon, ultra energy-efficient buildings of the future look like? Come see for yourself.
The Pembina Institute is inviting journalists to attend a media tour of a path-breaking green building under construction in Vancouver's Hastings-Sunrise neighbourhood. The six-storey, 85-unit, market-rental residential building on East Hastings Street (two blocks west of Burnaby's city limits) aims to be Canada's largest building certified as achieving the Passive House standard.
Vancouver is leading the way with its new Zero Emissions Building Plan. With a federal announcement expected soon, we could see more of these low-carbon buildings across British Columbia and Canada.
On November 8, the developer, architect, and builder will be on site to talk about the cost-effectiveness of constructing, maintaining, and heating ultra energy-efficient buildings. City of Vancouver staff and experts from Passive House Canada and the Pembina Institute will also be on hand to discuss how this apartment development relates to the city's Zero Emissions Building Plan, British Columbia's climate plan, and the forthcoming pan-Canadian framework on clean growth and climate change.
The Pembina Institute will launch a comprehensive report that sheds light on how public policy can accelerate the adoption of high-performance building enclosures in the construction industry. By increasing the insulation and airtightness of walls, roofs, and windows, the Passive House approach can dramatically reduce the energy use and carbon emissions of buildings.
Passive House building tour in East Vancouver
Date: Tuesday, November 8, 2016
Time: 10:30 a.m. (PST)
Location: The Heights (388 Skeena Street, Vancouver)
Interviews:
Ed Kolic, president, Eighth Avenue Development Group
Doug Wilson, president, Peak Construction Group of Companies
Scott Kennedy, principal, Cornerstone Architecture, and chair, Passive House Canada
Chris Higgins, green building planner, City of Vancouver
Karen Tam Wu, director of the buildings and urban solutions program, Pembina Institute
Dylan Heerema, analyst, Pembina Institute
-30-
Photos will be available for editorial use following the tour: Pembina Institute on Flickr
Join the conversation on Twitter: #PassiveHouseYVR @Pembina
Contact
Stephen Hui
Communications Lead, Pembina Institute
778-987-7654
stephenh@pembina.org
Tw: @StephenHui
Background
Blog: Taking green buildings to the next level in B.C.
Op-ed: A blueprint for quality buildings and green jobs for B.C. and beyond
Open letter: Canada needs a bold national action plan for energy efficient buildings
Interactive map: British Columbia Green Buildings Map