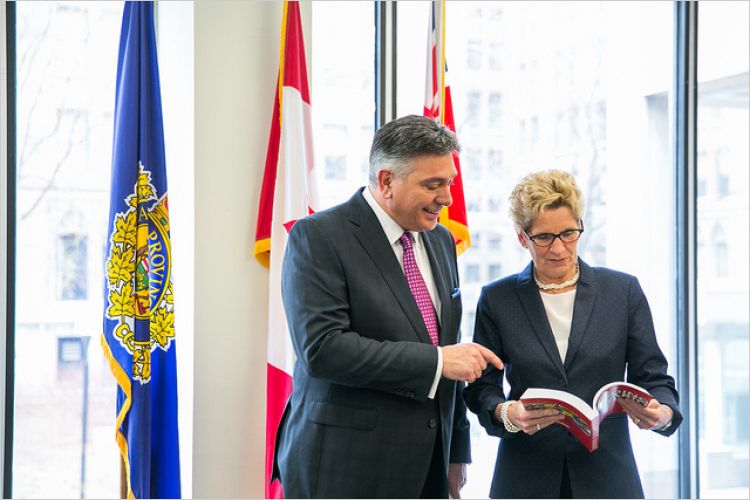 TORONTO — Eli Angen, Ontario regional director at the Pembina Institute, made the following statement in response to the tabling of the 2017 Ontario budget:
"We're pleased to see the provincial government continuing to invest in Ontario's low carbon economy. By keeping investment in transit infrastructure at about one third of infrastructure expenditures the provincial government is ensuring that our growing population will be supported by transportation options, outside of the personal car. This transit investment level is also twice what is being spent on provincial highways, so it's encouraging to see that this government is looking ahead to a low-carbon future.
"We know that long-term, stable funding is critical to building out transit, and currently the transit funding gap for capital and operations is considerable. Allowing municipalities across Ontario to implement hotel taxes is a helpful revenue tool to bridge this gap, and a good addition to the previously announced increase in the share of gas tax revenue going to municipalities. While these are positive steps, municipalities need more autonomy to implement revenue tools, with significant revenue potential.
"With the successful completion of the first cap and trade auction earlier this year the government can make more confident investments in the priorities identified in the Climate Change Action Plan. The budget begins this process with a commitment of $50 million for cycling infrastructure. We look forward to seeing more details on the government's plans for the use of cap and trade revenue in the coming months.
"Goods movement alone accounts for 10 per cent of Ontario's emissions. The province desperately needs a freight management strategy to start to address these often overlooked emissions. We're pleased to see this beginning with the Northern Ontario Multimodal Transportation Strategy, and we encourage the government to take a leadership role on goods movement and expand this thinking to the rest of the province." 
-30-
Contact
Kelly O'Connor
Communications lead
416-220-8804
Background
Blog: It's cap and trade auction season in Ontario (March 2017)
Blog: Ontario's biggest rapid transit build out: what's up on the ground? (March 2017)
Blog: Environmental weight of freight (October 2016)
Reacts: Pembina reacts to Ontario's climate change action plan (June 2016)