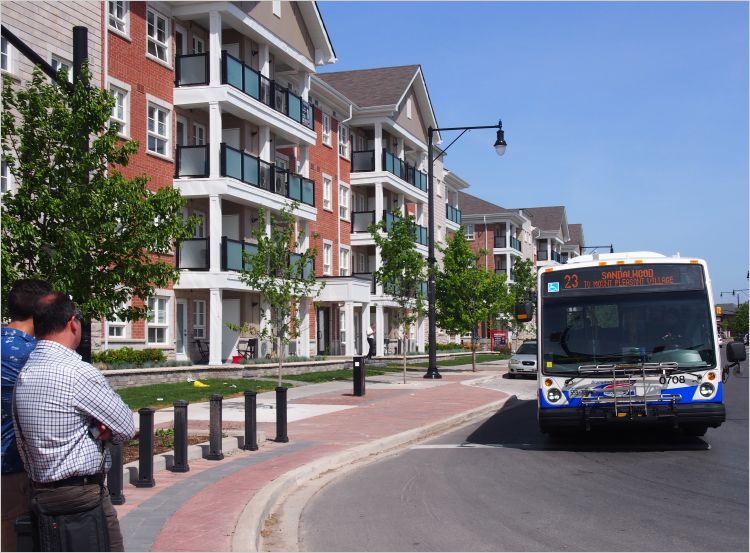 TORONTO — The rapid growth across the Greater Golden Horseshoe is an opportunity to enable effective city-building. Harnessing both the investment and influx of people and jobs that growth brings can help build better, more connected cities, according to new research released today by the Pembina Institute, with support from Evergreen and members of the Housing Action Lab. 
In a series of three briefs, "Transit-supportive development and city-building", the research looks at building a framework for effective growth, how to build the right economic conditions, and policy and infrastructure needs for building multi-modal, well-connected cities. The research shows that cities and municipalities are proving themselves as leaders and innovators, and are working with developers, incentivizing effective development, and taking it upon themselves to conduct critical studies.
Case studies in the briefs include Mount Pleasant Village in Brampton, the LRT project in Ottawa, the new LRT corridor in Hamilton, GO stations in Durham Region, Dundas Connects in Mississauga, and CIBC Square in downtown Toronto.
Quick facts
The Greater Golden Horseshoe's population is expected to grow by 50 per cent by 2041.
Many communities traditionally thought of as "suburban" or "mid-sized" are growing even faster than regional averages and are emerging as urban centres in their own right. For example, Durham Region is projected to grow by 90 per cent to 2041.
Together, the transportation and buildings sectors produce 54 per cent of Ontario's carbon pollution.
Quotes
"Our research made it clear that many cities are seizing the opportunities rapid growth provides. While tools like the Growth Plan and the regional transportation plan are key pieces of the puzzle in spurring transit-supportive development, municipalities are on the front lines of implementing this development, so their leadership is critical."
— Lindsay Wiginton, director, transportation and urban solutions, Pembina Institute
-30-
Visit the Pembina Institute's website to download a copy of "Transit-supportive development and city-building."
Contact
Lindsay Wiginton (English / français)
Director, Transportation and Urban Solutions
514-743-9244
Kelly O'Connor
Director, Communications and Stakeholder Relations (interim)
416-220-8804