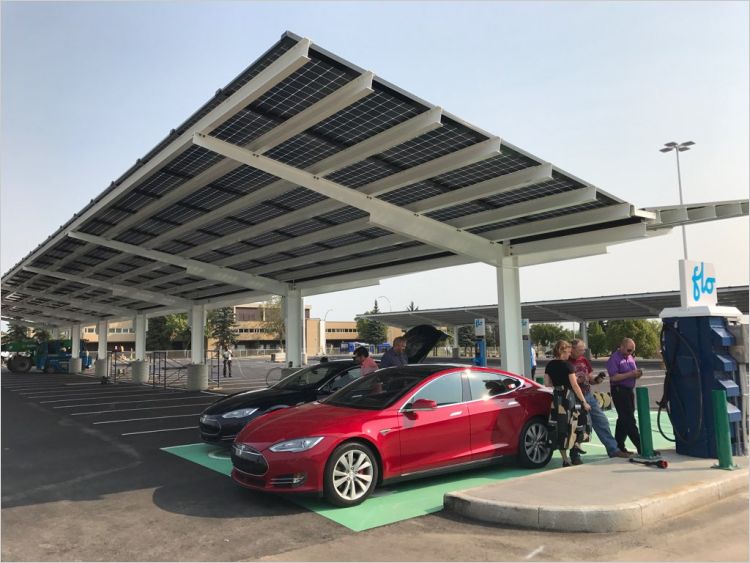 TORONTO — To future-proof Canada's auto industry and ensure the country holds its position as a top global auto producer, targeted policy support to enable a shift to electric vehicle production is critical, according to Power Play: Canada's role in the electric vehicle transition, a new report from the Pembina Institute and the International Council on Clean Transportation. 
This finding is especially important as Canada makes investment decisions to address the financial fallout from the COVID-19 crisis. Massive financial injections are needed to help Canadians weather the devastating impacts of this ongoing health and economic crisis, and to stimulate Canada's economy when we emerge from the pandemic. 
Electrification of the transportation sector can play an important role as federal and provincial governments and industry seek to stabilize Canada's economy while keeping Canada on a path to net-zero emissions by mid-century. The report finds that although Canada has a strong history of auto production to build on, particularly in Ontario, targeted investments are needed to grow light-duty and heavy-duty electric vehicle production and demand. If Canada does not find a way to rapidly develop raw materials, supply base, and electric vehicle production, it is at risk of losing a major pillar of its economy as the market rapidly shifts toward electric vehicle adoption. Efforts should be focused on training workers to support the production of both light- and heavy-duty electric vehicles. 
While the transition to electrification in trucking is in the early stages, Canada seems to be ahead of the curve, with several Canadian-based companies and manufacturing facilities that have emerged in recent years, concentrated in Quebec. 
Lastly, the report recommends Canada build on its leadership in developing and producing hydrogen fuel cell technology, especially in heavy-duty vehicles. Hydrogen fuel cell vehicles are expected to play a larger role in the electrification of the commercial vehicle sector, opening up a critical opportunity for investment and associated job growth in Canada. 
Quotes
"The findings of this report are particularly relevant as we make investment choices to rebuild Canada's economy when we emerge from the economic freeze forced upon us by COVID-19.  The choices we make will help determine our competitiveness and economic success in a decarbonizing global market in the years to come. As global demand for electric vehicles increases dramatically, Canada is at risk of losing market share and its position as a leader in auto production. Canada has an opportunity now to support Canadian workers across the auto manufacturing sector with financial injections for the light- and heavy-duty electric vehicle production sectors, and the hydrogen industry, paired with a comprehensive suite of policies, including a zero-emission vehicle sales mandate, to support local demand."
— Carolyn Kim, Ontario director, Pembina Institute
Quick facts
Canada is the 12th largest vehicle producer in the world, but electric vehicle production is 80 per cent lower than the global average.

Canada ranks sixth in the world in electric heavy duty vehicle (HDV) production, despite its relatively small share of the global total electric HDV production (0.1 per cent). 

Globally, light-duty electric vehicle sales have grown over 60 per cent per year since 2012, to over 2 million in 2018.

Globally, 80 per cent of electric vehicles are manufactured in the region they are sold.
-30-
Visit pembina.org to download a copy of Power Play: Canada's role in the electric vehicle transition.
Contact
Kelly O'Connor
Associate communications director
416-220-8804