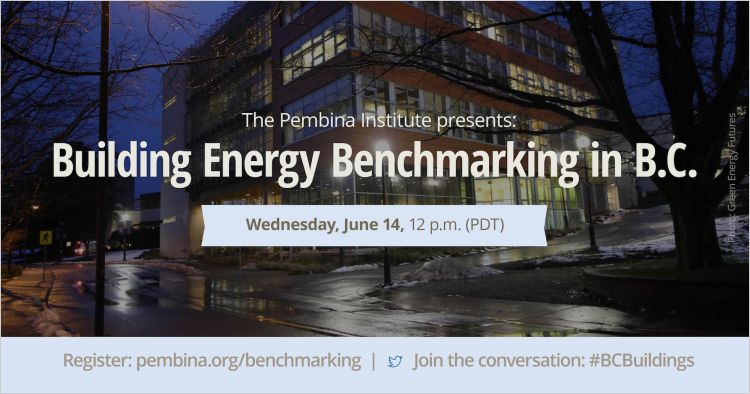 Update: Missed the webinar? View the video, slides, and Twitter recap.
---
VANCOUVER / COAST SALISH TERRITORY — Municipalities in British Columbia's Lower Mainland want large buildings to be required to track their energy and water consumption, and to report this data to the province every year.
The Lower Mainland Local Government Association recently passed a City of Richmond-sponsored resolution calling on the B.C. government to make energy benchmarking and annual reporting mandatory for buildings larger than a certain size (such as 50,000 square feet). In September, the Union of B.C. Municipalities will consider a similar resolution at its annual convention in Vancouver.
On June 14, the Pembina Institute will host Building Energy Benchmarking in B.C., a timely webinar featuring speakers from the City of Seattle, Real Property Association of Canada, City of Richmond, and Canada Green Building Council. An audience Q&A will follow the presentations.
Benchmarking allows property owners to compare the energy performance of their buildings with historical use and similar buildings. This, in turn, helps owners identify opportunities to save energy and water, and thereby save money on utility bills and reduce carbon pollution.
This low-cost, market-based approach is already being used in 25 North American cities, Ontario, Washington, and California, and numerous jurisdictions in the U.K., Europe, and Asia. The resolution passed by Lower Mainland municipal officials asks for building energy data to be made available to local governments to inform their climate change programs.
The public and media are invited to attend Building Energy Benchmarking in B.C. via web or telephone (free of charge). Online registration is required.
Building Energy Benchmarking in B.C.
Date: Wednesday, June 14, 2017
Time: 12 p.m. to 1 p.m. (PDT)
Register: pembina.org/benchmarking
Panellists:
Duane Jonlin, energy code and energy conservation advisor, City of Seattle
Brooks Barnett, manager of government relations and policy, Real Property Association of Canada
Brendan McEwen, sustainability manager, City of Richmond
Akua Schatz, director of advocacy and development, Canada Green Building Council
Moderator: Dylan Heerema, analyst, Pembina Institute
-30-
Join the conversation on Twitter: #BCBuildings @Pembina
Find photos for editorial use: flickr.com/pembina
Contact
Stephen Hui
Communications Lead, Pembina Institute
778-987-7654
stephenh@pembina.org
Tw: @StephenHui
Background
Report: Deep Emissions Reduction in the Existing Building Stock
Blog: Gas vs. electricity? Comparing home heating costs in B.C.
Report: Accelerating Market Transformation for High-Performance Building Enclosures
Action plan: Vision for Clean Growth in B.C.
About the Pembina Institute
The Pembina Institute is a non-profit think-tank that advocates for strong, effective policies to support Canada's clean energy transition. We have offices in Vancouver, Calgary, Edmonton, and Toronto. Learn more: www.pembina.org