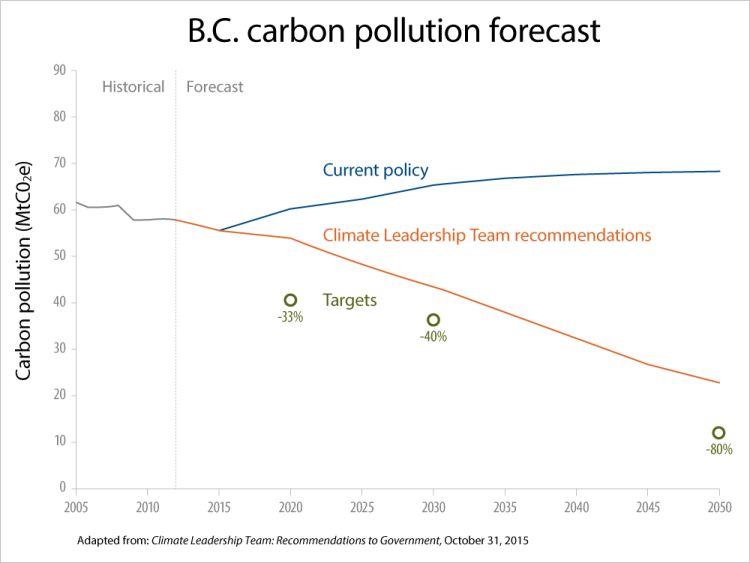 VANCOUVER / COAST SALISH TERRITORY — Seven members of Premier Christy Clark's Climate Leadership Team are voicing concern that the B.C. government has still not released a new Climate Leadership Plan that is needed if B.C. is to meet its legislated climate targets.
A year ago, the government committed to releasing a draft plan in December 2015 and the final plan this past March.
One year after their appointment to the blue-ribbon panel, a group of First Nations chiefs, university professors, and civil society leaders released today an open letter urging the premier to put forth a climate plan that will see B.C. reclaim its climate leadership.
The team members also highlighted that a credible climate plan must say yes to strengthening the carbon tax, creating new jobs in the clean economy, and achieving the province's legislated emissions target for 2050.
In its report released in November 2015, the multi-sectoral team clearly stated that its 32 recommendations are a package: picking and choosing among them will not set B.C. on a course to meet its climate targets.
However, the government has not yet adopted the recommendations. Meanwhile, B.C.'s emissions are going up and the province is not on track to meet its 2020 and 2050 emissions targets.
"B.C. can't be a climate leader if its carbon pollution is rising. As the federal government places a renewed emphasis on climate action, now is the time for B.C. to be articulating its next steps," the team members' letter states.
"The Climate Leadership Team recommendations, implemented in their entirety, provide the blueprint for a B.C. climate plan to put the province back on track for the 2050 and interim 2030 targets. Anything less is not climate leadership," the letter concludes.
List of signatories
Chief Ian Campbell, hereditary chief, Squamish Nation
Chief Michelle Edwards, Cayoose Creek Band
Tom Pedersen, professor of oceanography, University of Victoria
Matt Horne, B.C. associate director, Pembina Institute
Merran Smith, executive director, Clean Energy Canada
Tzeporah Berman, adjunct professor, Faculty of Environmental Studies, York University
Nancy Olewiler, professor, School of Public Policy, Simon Fraser University
-30-
Download: Letter to Premier Christy Clark from Climate Leadership Team members
Backgrounder: Evaluating climate leadership in British Columbia
Join our Twitter chat: #BCClimateChat (Wednesday, May 18 at 12 p.m.)
Contact
Stephen Hui
Communications Lead
Pembina Institute
778-987-7654
stephenh@pembina.org
Julia Kilpatrick
Director of Communications
Clean Energy Canada
250-888-3404
julia@cleanenergycanada.org
Background
Summary: B.C. Climate Leadership Team process and recommendations
Report: Climate Leadership Team: Recommendations to Government
Open letter: B.C. businesses support a stronger carbon tax