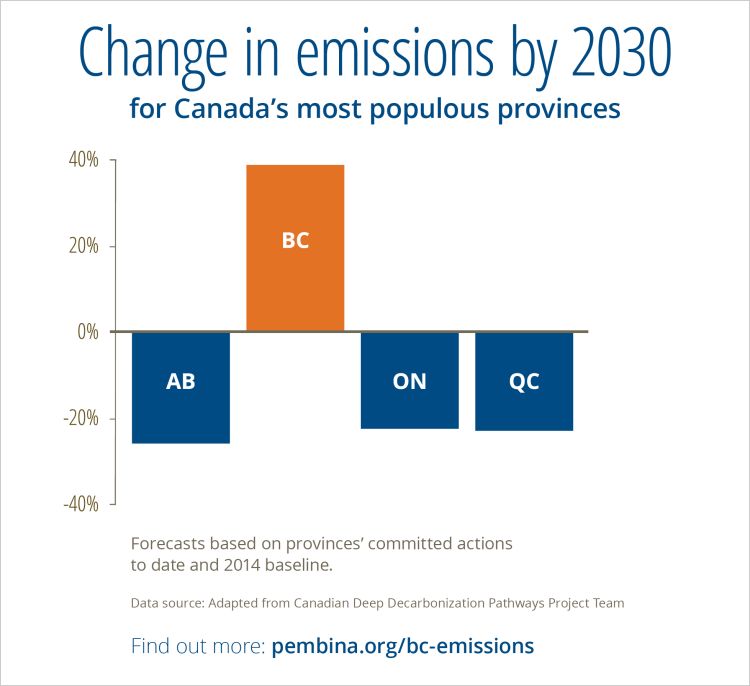 Today, the Pembina Institute released an infographic and a backgrounder illustrating that eight years after the release of the province's Climate Action Plan, B.C.'s emissions are projected to keep going up. This growth stands in stark contrast to Ontario, Quebec and Alberta.
With the carbon tax frozen since 2012, B.C.'s carbon pollution has been rising. According to modelling by the Canadian Deep Decarbonization Pathways Project Team, if the province's inaction on climate change continues, B.C.'s emissions will rise 39 per cent above their 2014 level by 2030.
Meanwhile, carbon pollution in Alberta, Ontario and Quebec is expected to decrease by 26 per cent, 22 per cent and 23 per cent, respectively, over the same period based on these provinces' climate actions and commitments to date.
B.C. will fail to meet its legislated emissions target in 2020. To be credible, the government's Climate Leadership Plan, expected to land later this month, must get B.C. back on track to its 2050 target.
Last fall, Premier Clark's Climate Leadership Team delivered 32 recommendations designed to do just that. If the government adopts anything less than the full package of recommendations, including a stronger carbon tax, B.C. will miss its 2050 target — and fail to do its part in addressing climate change.
Quick facts
B.C.'s carbon emissions in 2014: 63 million tonnes.
B.C.'s legislated emissions target for 2020: 44 million tonnes.
B.C.'s legislated emissions target for 2050: 13 million tonnes.
Quotes
"Premier Clark has a clear choice: a strong plan that says yes to renewed climate action and a B.C. well positioned to thrive in a low-carbon world, or a weak plan that fails to protect our communities, economy and environment from a changing climate."
— Josha MacNab, B.C. director, Pembina Institute
"In 2008, B.C. built a solid foundation with the Climate Action Plan. But when it came time to construct the proverbial house, Premier Clark balked at taking the next steps. It's time to quit stalling and finish the job."
— Matt Horne, B.C. associate director, Pembina Institute (and Climate Leadership Team member)
-30-
Download the infographic: Change in emissions by 2030 for Canada's most populous provinces
Read the backgrounder: How do B.C.'s climate action commitments stack up?
Join the conversation on Twitter: #BCClimatePlan @Pembina
Contact
Stephen Hui
Communications Lead, Pembina Institute
778-987-7654
stephenh@pembina.org
Background
Open letter: Letter to Premier Christy Clark from Climate Leadership Team members
Op-ed: Stronger carbon tax must be top priority for climate plan: B.C. mayors
Open letter: B.C. businesses support a stronger carbon tax
Paper: B.C. Climate Leadership Plan submission: Phase 2 consultation