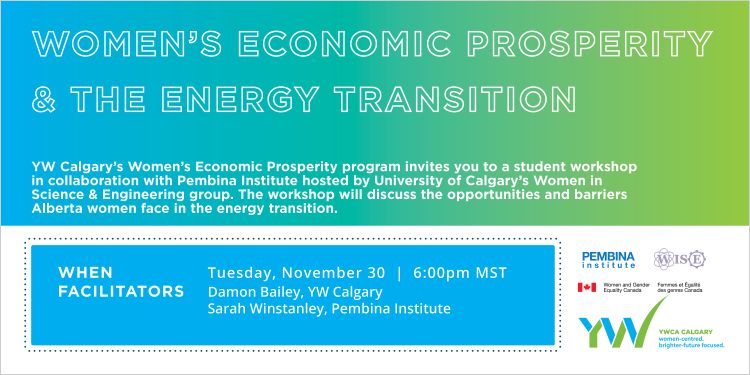 Women's Economic Prosperity and the Energy Transition Student workshop with YWCA Calgary, Pembina, and WISE
---
Nov. 30, 2021

6:00pm - 7:30pm

MDT
Online (Zoom), Alberta
workshop
- Public event
---
Are you a post-secondary student interested in working in Alberta's energy transition?
Join the YWCA of Calgary, Women in Science and Engineering (WISE) University of Calgary chapter, and the Pembina Institute to learn about women's economic prosperity in Alberta and explore what economic opportunities and barriers exist for women in the province's energy transition. You will be invited to share your unique perspectives as students in several engaging conversations, and your input will inform the work YWCA Calgary and Pembina are doing to support women in Alberta. Register here!

Women hold fewer jobs than men in Alberta's energy sector, especially leadership roles. This limits the ability of women to lead and participate in solutions to climate change. Shifting to more renewable energy could create new possibilities for women – but only if the energy transition is fair and inclusive for all.
During this workshop we will explore:
What is the "energy transition" anyways?

What does "net-zero" mean?

What job opportunities are there for women in the transition?
What barriers exist for women moving into these opportunities?

What ideas do women have for solving these barriers (in workplaces, industries, government, and beyond)?
This workshop is for students who identify as women in any program, including trades and technical schools, who are curious about the energy transition in any way – no previous knowledge about energy is needed.Info will be provided to support students in learning about the energy transition, and to give their input about the barriers and solutions for gender inclusion.
This workshop is part of a series of sessions seeking input from different groups of women across the province. The feedback shared in these sessions will be included in publicly available reports, which will help the YWCA and Pembina Institute advise our networks on how to support full and equal participation of women in Alberta's energy future.
About the YW Women's Economic Prosperity Program
YW Calgary has recently introduced new programs as part of their Women's Economic Prosperity (WEP) initiative. When women are financially empowered, they are better equipped to exercise control over their lives, improve financial security for themselves and their families, and participate more equitably in the workforce. The WEP programs provide women with the tools, knowledge and support to overcome economic disadvantages.
The University of Calgary's WISE is a student organization dedicated to helping women to succeed in fields of Science and Engineering through three core programs: academic achievement, professional development, and community outreach.
The Pembina Institute would like to thank Women and Gender Equality Canada and the McConnell Foundation for their generous support.