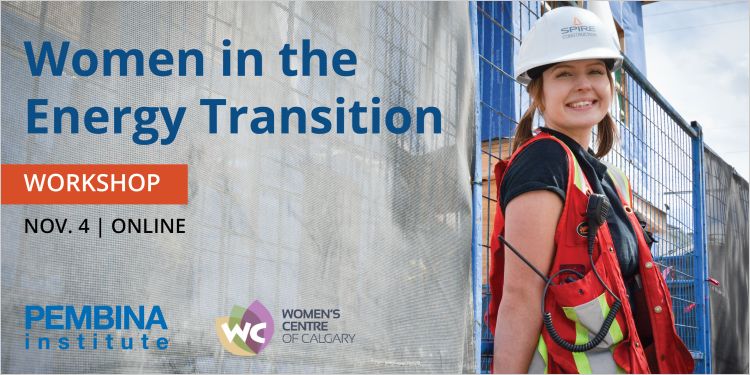 Women in the Energy Transition Workshop Join the Women's Centre of Calgary and Pembina Institute for an open discussion
---
Nov. 4, 2021

6:00pm - 8:00pm

MDT
Online, Alberta
workshop
- Public event
---
Women hold fewer jobs than men in Alberta's energy sector, especially leadership roles. This limits the ability of women to lead and participate in solutions to climate change. Shifting to more renewable energy could create new possibilities for women – but only if the energy transition is fair and inclusive for all.
Join the Women's Centre of Calgary, the Pembina Institute, and other partners for a discussion to explore:
What is the "energy transition" anyways?
What does "net-zero" mean?
What job opportunities are there for women in the transition?
What barriers exist for women moving into these opportunities?
What ideas do women have for solving these barriers (in workplaces, industries, government, and beyond)?
This workshop is for women who are curious about the energy transition in any way – no previous knowledge about energy is needed. Info will be provided to support women to learn about the energy transition, and to give their input about the barriers and solutions for gender inclusion.
This workshop is part of a series of session seeking input from different groups of women across the province. The feedback shared in these sessions will be included in publicly available reports, which will help the Pembina Institute to advise our networks on how to support full and equal participation of women in Alberta's energy future.
The Pembina Institute would like to thank Women and Gender Equality Canada and the McConnell Foundation for their generous support.