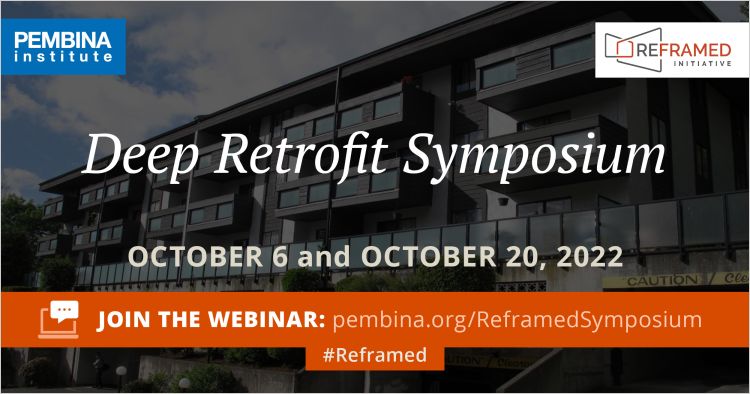 Reframed Deep Retrofit Symposium Part 1 (Oct. 6) and Part 2 (Oct. 20)
---
Oct. 20, 2022

9:00am - 12:30pm

PDT
webinar
- Public event
---
Phase One of our Reframed Lab series has come to an end and we cannot wait to share the design proposals!
Join us online for our two-part Reframed Deep Retrofit Symposium, to learn from our design teams about the first tranche of demonstration projects for low-rise social housing across B.C.
These two sessions will feature:
Presentations from key players in the retrofit ecosystem on the features, costs and performance of deep retrofits.
Discussions around the commonalities and differences between approaches for the six Reframed Lab sites.
Feedback from teams and influential owners, financiers, and regulators on the transferability of proposed approaches.
Findings around the implications of design for innovative business models for financing, operations and maintenance.
---
Part One: Thursday, October 6
This event is complete.
Projects featured:
Crown Manor, New Westminster (Metro Vancouver Housing Corp.)
Presenters: Williams Engineering, Integra Architecture, TLSE Engineering Inc, Advicas Group Consulting
Medewiwin, Victoria (Pacifica Housing)
Presenters: Low Hammond Rowe Architects, ReNü Engineering, RJC Engineers, RDH Building Science, Hanscomb Ltd.
Crossroads Inn, Kamloops (Ask Wellness Society)
Presenters: RJC Engineers, Cover Architectural Collaborative, AME Group, Projects with Grace Inc., O'M Engineering, LTA Consultants Inc.

Minimizing embodied carbon in retrofits: Lessons learned from the six Reframed projects
Presenter: Anthony Pak, Principal, Priopta
---
Part Two: Thursday, October 20
Projects featured:
Dany Guincher
Presenters: Entuitive, Martin Pykalo Architecture, AME Group, Advicas Group Consulting Inc.
Manor House
Presenters: Team 1: Morrison Hershfield, Fast + Epp, Hanscomb Ltd.; Team 2: SES Consulting, RDH
Le Chateau
Presenters: Evoke Buildings, Monstera Projects, Impact Engineering, Station One Architects, O'M Engineering, BELi (Building Enclosure Labs Inc.), Hanscomb Inc.
Maximizing synergies between energy and seismic upgrades: Lessons learned from the six Reframed projects
Presenter: John Sherstobitoff, Principal, Seismic, Ausenco