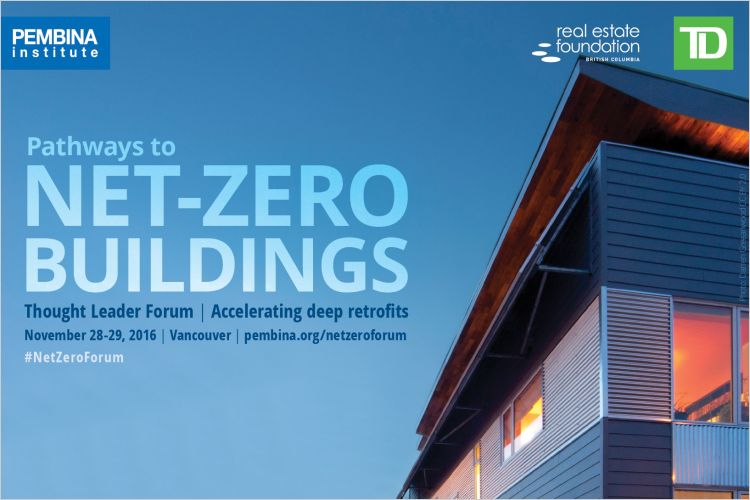 Pathways to Net-Zero Buildings Thought leader forum: Accelerating deep retrofits
---
Nov. 27, 2016

11:00pm

to Nov. 29, 2016

10:59pm
Sandman Hotel Vancouver City Centre — 180 West Georgia Street, Vancouver, BC
multiDialogue
- Invitation only
---
Read the report
Deep Emissions Reduction in the Existing Building Stock: Key elements of a retrofit strategy for B.C. (April 2017)
---
The Pembina Institute hosted the sold-out Pathways to Net-Zero Buildings thought leader forum on November 28 and 29 in Vancouver. 
This was not a conference. It was an opportunity for a frank conversation about what works and what does not in public policy with respect to preparing our buildings for a low carbon economy. In a roll-up-your-sleeves environment, we tested policies, clarified challenges, and identified areas of consensus.
The forum sought input from leaders in the field to help to shape B.C.'s and Canada's pathways toward net-zero buildings policies. Forum participants included representatives from all levels of government, building industry and trades professionals, utilities, research institutions, and non-governmental organizations.
This two-day event built on the discussions from last year's forum, and recent policy opportunities including the City of Vancouver's Zero Emissions Building Plan, B.C. climate plan and pan-Canadian climate framework. This year's key objectives were to establish consensus on the regulatory roadmap to net-zero ready new buildings in B.C., and to provide policy recommendations for a national and provincial building retrofit strategy.
Join the conversation on Twitter: #NetZeroForum @Pembina
---
Highlights from the forum
Videos:
Presentations: Download slide decks from 20 talks

Twitter Moments: #NetZeroForum recap
Photos:
---
Media coverage
---
Thank you to our supporters
---
Learn more