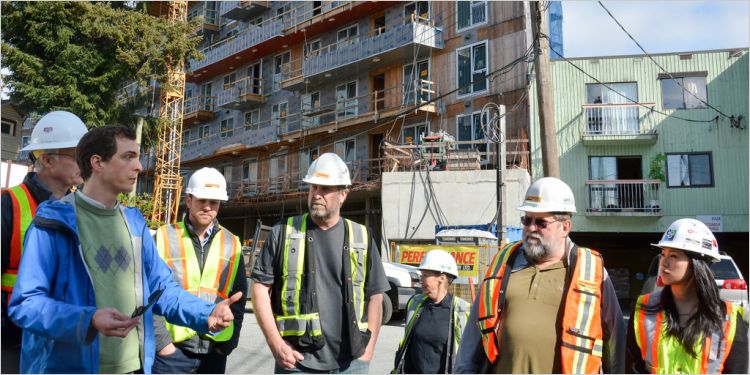 Green building tour for Earth Day King Edward Villa
---
Apr. 13, 2016

12:00am
Vancouver
tour
- Invitation only
---
When: Wednesday, April 13, 2016
10am (PDT)
Where: King Edward Villa
---
Photos: Green building tour on Flickr

Backgrounder: Tour of super energy efficient rental building
Media contact: Stephen Hui
---
A week before Earth Day, the Pembina Institute organized a media tour of a cutting-edge green building under construction in Vancouver.
King Edward Villa, a six-storey market rental residential building, is being built to super energy efficient specifications — targeting LEED Platinum certification and inspired by the Passive House standard.
The builder, energy consultant, local window manufacturer, City of Vancouver staff, and Tom-Pierre Frappé-Sénéclauze and Karen Tam Wu of the Pembina Institute were on hand to talk about the project and how it relates to B.C.'s Climate Leadership Plan and the city's Zero-Emission New Building Strategy — both due out later this year.
Journalists from three news outlets and staff of the cities of North Vancouver, Richmond and Surrey attended the tour.
---
Media coverage