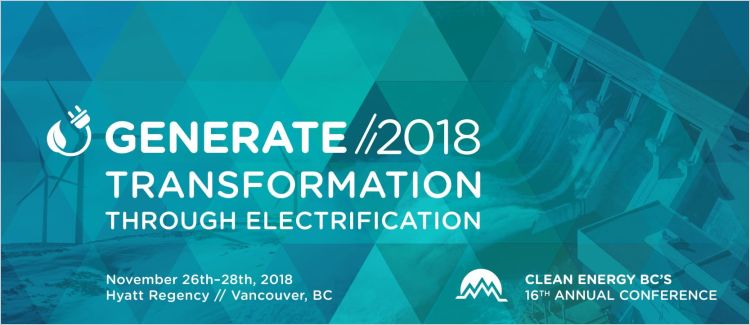 Generate 2018
Presented by Clean Energy B.C.
---
Nov. 27, 2018

10:45am - 12:00pm

PST
Hyatt Regency Vancouver, Vancouver, B.C.
conference
- Public event
---
Karen Tam Wu, B.C. managing director at the Pembina Institute, will lead a plenary session at Clean Energy B.C.'s 16th annual conference, Generate 2018.
---
Plenary 3
New Load: Opportunity in Cryptocurrency, Data Farms & Export
What do cryptocurrency mining, data servers and California's SB100 all have in common? They demand more clean, non-emitting renewable energy sources.
As the landscape changes, demand for energy increases. New industries are popping up and could potentially have large environmental impacts if their energy source is not taken into consideration. Hosting cryptocurrency mining operations is a very energy intensive process, and there are many proponents looking to set up shop right here in BC. Data is also a large commodity that is continuously growing. Data server farms are searching for cleaner options to power their operations. How do IPPs fit into this equation?
California recently announced SB100, committing the world's 5th largest economy to 100% renewable energy by 2045. What does this senate bill mean for BC's energy producers? Join us to discuss the export opportunities across the 49th parallel, as well as over the Rockies to Alberta.
---
Speakers
Dina Matterson, B.C. Hydro
Brian Moghadam, Powerex
Moderator
Karen Tam Wu, Pembina Institute
---
Learn more