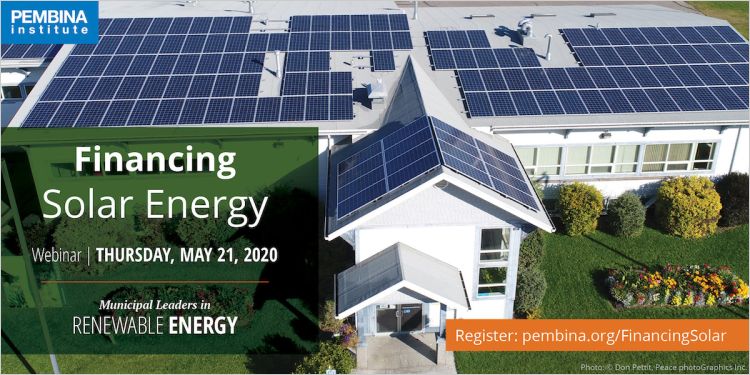 Financing Solar Energy Municipal Leadership in Renewable Energy webinar
---
May. 21, 2020

11:00am - 12:00pm

MST
Alberta
webinar
- Public event
---
Starting a renewable project, no matter the size, can seem daunting. With financial advice and resources, solar projects are within closer reach than many realize.
Join us for the next webinar in our Municipal Leadership in Renewable Energy, for a presentation by our panel of speakers who can help you become informed as we learn about solar finance in a peer-to-peer setting. The discussion will cover solar financing options for residential, agricultural, non-profit, small business and corporate customers, followed by a Q&A so that you can find out how to make solar energy a reality for your organization. 
Our panellists include:
HOST: Ben Thibault — Executive Director, Solar Alberta
Ben will moderate questions while we hear from guest speakers on opportunities in solar finance. 


Ranice Macyk — Senior Manager of Entrepreneur Capital, Business & Agriculture, ATB Financial
Ranice will speak about ATB's solar financing program


Barbara Daly — Senior Project Manager for City Environmental Strategies, City of Edmonton
Barbara will speak about local opportunities and the Made-in-Alberta PACE program



David Kelly — CEO, Skyfire Energy
David will speak about Skyfire's solar financing program and provide commentary on additional solar financing options currently available in Alberta.