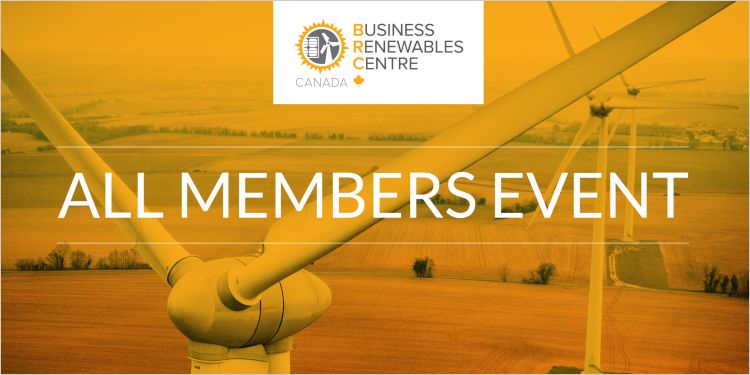 Business Renewable Centre Conference The inaugural Business Renewables Centre all members event
---
Oct. 17, 2019

8:30am

MDT
Residence Inn by Mariott, Calgary, Alberta
conference
- Invitation only
---
The inaugural Business Renewable Centre Canada all member event is the first of its kind for corporate energy users (buyers) to learn more about renewable energy procurement in Canada and network with other buyers and renewable energy suppliers (developers and intermediaries). 
A range of experience levels will be present: from buyers who are new to large-scale renewable energy procurement to companies actively working on projects and others that have finalized projects in the past. Renewable energy buyers, developers and intermediary firms will learn together from past experiences from the US and Canadian markets and set the stage for what the future of corporate renewable energy procurement in Canada can look like.
Through a dynamic program, the day will:
Boost the learning curve by sharing best practices and real world experience in procurement

Identify and address current questions about corporate procurement

Build a community of people committed to renewable energy purchasing
Tickets to the event are included with a Business Renewable Centre Canada membership or you can request an invitation by contacting saeedk@businessrenewables.ca

Download the event package here.
Event agenda
October 16, 2019
Evening Reception: 6:00 pm - 8:00 pm, Doors open: 5:30 pm
Venue: Residence Inn by Marriott
Please join us for this evening reception to connect with your fellow BRC members, meet the BRC staff and content experts.
October 17, 2019
All day event: 8:30 am - 4:30 pm, Registration & Breakfast open: 7:30 am 
Venue: Residence Inn by Marriott
8:30 am Welcome 
9:00 am State of the Market 
10:15 am Buyers 101 | Developers 101 (concurrent sessions)
12:00 pm Lunch
1:00 pm Market Conversations (small-group, intimate conversations)
4:10 pm Checkout and Event Close
Session Descriptions
State of the Market Address
This session will present the state of the market in Canada and beyond for nonutility procurement, review our collective momentum, and provide a grounding for the trends being discussed during the Market Conversations.
Buyers 101
Attendees will discuss the structures, products, and issues relevant to renewable procurement for both, experienced buyers as well as buyers, entering the market for the first time. The session will focus on offsite procurement in the Alberta market.
Developers 101
Attendees will discuss what to expect from the electricity and carbon markets in Canada and developers can learn more about working with different buyer types in Canada and what companies typically seek from renewable energy transactions.
Market Conversations
The Market Conversations segment provides a forum for the cutting edge conversations that are most important to members. Each topic is drawn from the membership and tables are hosted by members. Each table will discuss a different question with hosts guiding the conversations to uncover issues and solutions, and further understanding for all table attendees. 
Attendees will have the chance to attend four of six different tables for 30 minutes each.
Conversation tables include:
How does corporate renewable procurement look like outside Alberta? 

How can we unlock smaller corporate and institutional loads through aggregation? - What are the benefits, risks and the approaches?

What is the deal structure for virtual power purchase agreements?

How can we overcome barriers with Internal stakeholders?

Being a large emitter, how can you monetize renewable attributes?

What are the future regulatory opportunities and challenges in the Alberta context?