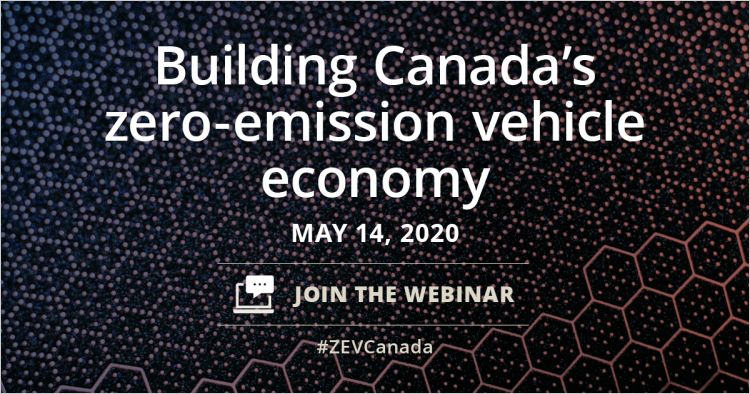 Building Canada's zero-emission vehicle economy A Pembina Institute webinar
---
May. 14, 2020

1:00pm - 2:00pm

EST
Online
webinar
- Public event
---
Revving zero-emission technologies and vehicles will be key to rebuilding Canada's economy when we emerge from the COVID-19 pandemic. Significant opportunity lies in creating jobs and stimulating our domestic economy through investments in electric vehicle production, including building on Canada's leadership in developing and producing hydrogen fuel cell technology. These opportunities are outlined in the recent report, Power Play: Canada's role in the electric vehicle transition, from ICCT and the Pembina Institute. Watch the recording below for a candid conversation on what it will take to make the right investments so that Canada can become an auto manufacturing heavy hitter again, all while taking steps to a low-carbon economy.
Webinar recording
Moderator: Carolyn Kim, Ontario director, Pembina Institute
Panellists:
Ben Sharpe, senior researcher and Canada lead, International Council on Clean Transportation. The ICCT works to improve the environmental performance and energy efficiency of road, marine, and air transportation, in order to benefit public health and mitigate climate change.
Patrick Gervais, VP, marketing and communications, The Lion Electric. The Lion Electric is an all-electric truck and bus manufacturer, headquarted out of Saint-Jérôme, Québec. They design, manufacture and assemble all components of their vehicles, which include school buses, minibuses, and urban trucks.
Sarah Houde, CEO, Propulsion Québec. Propulsion Québec's mission is to rally the entire sector around joint projects aimed at positioning Quebec as a global leader in developing and implementing smart and electric modes of ground transportation. 
Mark Kirby, president & CEO, The Canadian Hydrogen and Fuel Cell Association. The CHFCA is focused on advancing the use of advanced hydrogen and fuel cell technologies and products to help tackle the world's most critical energy challenges.