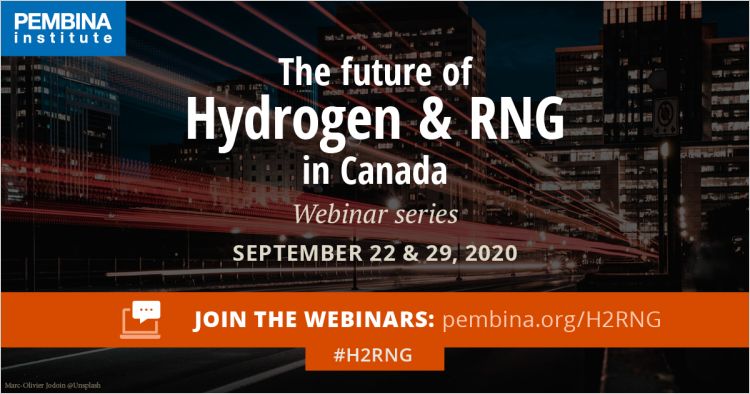 The Future of Hydrogen & RNG in Canada Webinar series
---
Sep. 29, 2020

1:00pm - 2:00pm

EDT
webinar
- Public event
---
Hydrogen and renewable natural gas are increasingly being discussed as promising pathways to achieving Canada's decarbonization goals. As momentum grows, common understanding is vital to realize the potential of hydrogen and RNG and accelerate their adoption in Canada.
Join the Pembina Institute for a two-part webinar series on these hot topics.
Watch a recorded webinar
---
Part 1: The Potential of Hydrogen & RNG to Decarbonize Canada's Energy Systems
Tuesday, September 22
10–11 a.m. PDT / 1–2 p.m. EDT
This webinar will break down the opportunities, challenges and barriers facing hydrogen and RNG. How are they produced? What are the climate benefits? Where can they be integrated into Canada's energy systems?
Watch the video recording
View the slides
Speakers
Opening remarks: Linda Coady, executive director, Pembina Institute
Presenters:
Sabina Russell, principal, Zen Clean Energy Solutions
Richard Carlson, director, energy policy and Energy Exchange, Pollution Probe
Sarah Stadnyk, manager, business development and communications, Canadian Biogas Association
Moderator: Tahra Jutt, director, clean economy (B.C.), Pembina Institute
---
Part 2: The Role of Utilities in Accelerating Hydrogen & RNG Adoption
Tuesday, September 29
10–11 a.m. PDT / 1–2 p.m. EDT
This webinar will explore the opportunity for integrating or blending hydrogen and RNG in Canada's natural gas distribution networks. Is there a climate benefit associated with blending? How are economic and technical barriers being addressed across Canada?
Watch the video recording
View the slides
Speakers
Opening remarks: Karen Tam Wu, B.C. director, Pembina Institute
Presenters:
Scott Gramm, manager, RNG, FortisBC
Greg Caldwell, director, energy systems innovation, ATCO
Samuel McDermott, technical manager, renewable hydrogen, Enbridge
Vincent Regnault, director, gas supply and renewable gases development, Énergir
Moderator: Tahra Jutt, director, clean economy (B.C.), Pembina Institute
---
Media
Business in Vancouver: Hydrogen, biogas offer advantages in natural gas phaseout
---
Learn more
Read a primer: Hydrogen on the path to net-zero emissions