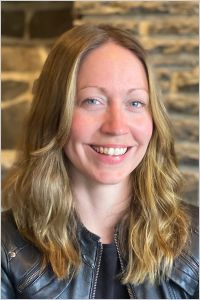 Sarah Winstanley is an analyst with the Pembina Institute's equitable transition program. She primarily works on the Women in Alberta's Energy Transition project and can offer a gender and intersectional lens to other projects.
She is a registered social worker who specializes in community development and engagement and has spent almost a decade working with girl and women leaders in Calgary and across the U.K. Before coming to the Pembina Institute, she led the creation of a range of activism programs for girls at the Women's Centre of Calgary. She has also been a Girl Guide leader, an anti-gender-based violence organizer, and a social action network facilitator in London, U.K. With a BSW and an MSW, Sarah is also a sessional instructor in the social work faculty at the University of Calgary.
Outside of work, Sarah can be found crocheting cozy blankets, cross-stitching, tending to her houseplants, reading, and hiking or running.
---
Contact Sarah Winstanley
cell: 587-575-9156 • email: sarahw@pembina.org
Sarah Winstanley's Recent Publications