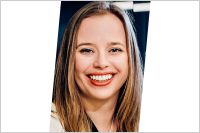 Meredith Adler, elected to a three-year term on the Pembina Institute's board of directors in June 2020, is the executive director for Student Energy, a global charity creating the next generation of energy leaders who will accelerate the transition to a sustainable energy future. With a network of over 50,000 students in 150 countries, Student Energy leads youth empowerment, skills development, and intergenerational collaboration for a clean energy future. The organization also focuses on developing the capacity of young people to be change agents through engagement with the energy industry, governments, and community organizations.
Meredith's leadership has been recognized by the Peter MacConnachie Collaboration Award, her position as a Smart Prosperity Leader, by Women In Renewable Energy as their Woman of the Year for 2018, as a Clean50 Emerging Leader, as one of BCBusiness's Top 30 under 30, and as a nominee for YWCA women of the year. Student Energy was named one of the top 50 youth solutions in the world delivering on the Sustainable Development Goals.
Meredith has a degree in geography from the University of British Columbia.
---