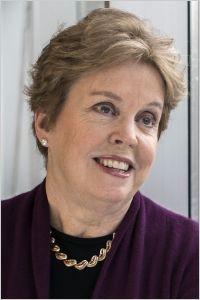 Linda Coady is the executive director of the Pembina Institute, Canada's foremost think tank on energy and environmental issues. Linda has broad leadership experience in sustainable development in multiple sectors, including forestry, mining and oil and gas, as well as with environmental organizations, local communities and financial institutions. She has a strong background in building working relationships across diverse groups and perspectives.
She currently sits as a member of Canada's Net-Zero Advisory Body, where she joins other experts to advise on the complex issues facing Canadians on the path to net-zero.
Prior to joining the Pembina Institute, Linda was chief sustainability officer for Calgary-based Enbridge Inc. (2013-2019), vice-president of sustainability for the Vancouver 2010 Olympic Games, vice-president of Pacific Region for World Wildlife Fund Canada (WWF-Canada), and vice-president of environmental affairs and enterprise for the B.C. Coastal Group of forest companies Weyerhaeuser and MacMillan Bloedel.
In 2019, Linda served as chair of the Advisory Committee to the Government of Canada on Indigenous Economic Participation in the Trans Mountain Pipeline. In 2018, she co-chaired the Government of Canada's Generation Energy Council which, based on input from conversations with 400,000 Canadians, put forward a consensus narrative on Canada's transition to a low-carbon future. And in 2015, Linda served as a member of the Advisory Panel on Climate Leadership for the Province of Alberta.
As a Distinguished Fellow in the Liu Institute for Global Issues at the University of British Columbia, Linda conducted research, wrote and lectured on corporate social responsibility issues, and served as sessional adjunct professor at the Sauder School of Business in the MBA program.
---
Contact Linda Coady
Send an email
Linda Coady's Recent Publications