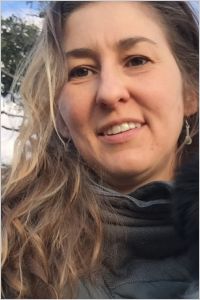 Larissa Stendie is an analyst in the Pembina Institute's renewables in remote communities program, working on the Energy-focused Asset-based Community Development project focussing on increasing capacity support for energy planning in remote Indigenous communities. 
Larissa has worked on environmental justice and sustainability issues related to climate change, extractive industries, Indigenous Peoples, and community economic development in Sierra Leone, Peru, Occupied Palestine, The Gambia, Norway, and Canada. She holds a Master of Culture, Environment and Sustainability degree from the University of Oslo, where her research focused a political ecology lens on indigenous consultation (FPIC) and deliberative-discursive democracy.
Larissa has been a consultant with Resilience Environmental Solutions working on research, project management, and public engagement (IAP2) with: Canadian Centre for Policy Alternatives-BC's Corporate Mapping Project; T'Sou-ke First Nation and Clean Tech Community Gateway on a high-performance housing on-reserve project; and RenuWell Group (co-founder) and Iron and Earth (board director) on putting PV arrays on orphaned oil and gas wells.
---
Contact Larissa Stendie
cell: 250-891-8245
Send an email