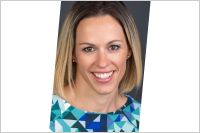 Jessica Butts, elected to a three-year term on the Pembina Institute's board of directors in June 2020, is a senior director in the Delphi Group's Toronto office, where her goal is to help some of Canada's largest organizations move towards a low carbon future. She works with Delphi clients to navigate an increasingly complex landscape through collaboration, innovation, critical insight, and consensus building. She leads initiatives across various sectors and markets – including energy, resources, retail, finance, forestry, transportation, and manufacturing. Her areas of expertise include sustainable business strategy, environmental risk management, climate policy, climate change mitigation, carbon markets and pricing, and GHG regulation across North America and internationally. Most recently, Jessica supported an expert panel on "Green and Transition Finance" to enable investment in a net-zero Canadian economy and Canada's success in a globalized low carbon economy.
Prior to joining Delphi, Jessica worked on the Climate Change and Energy team at the International Institute for Sustainable Development (IISD). 
Jessica holds a Master of International Public Policy degree from the Balsillie School of International Affairs, Wilfrid Laurier University along with a Bachelor of Public Affairs and Policy Management from Carleton University.
---