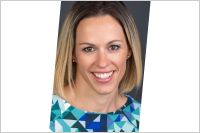 Jessica Butts was elected to a three-year term on the Pembina Institute's board of directors in June 2020. She is a principal with ESG Global Advisors, where she works with clients, colleagues, and partners to identify and strategically manage a range of material ESG issues and priorities. She leads projects across various sectors and markets – including energy and utilities, resources, finance, real estate, forestry, transportation, retail, and manufacturing. She is regularly called upon to speak publicly, brief executives, and facilitate multi-stakeholder processes. Her areas of expertise include sustainable business strategy, climate risk management, ESG disclosure, climate policy, carbon markets, and regulation across North America and internationally.
Prior to joining ESG Global Advisors, Jessica was a senior director with the Delphi Group, where she co-led the firm's climate change practice. Prior to Delphi, Jessica worked with the climate change and energy team at the International Institute for Sustainable Development (IISD). She also spent time as a Balsillie Fellow with the Centre for International Governance Innovation and has worked for the Parliament of Canada.
Jessica has a Master of International Public Policy degree from the Balsillie School of International Affairs, Wilfrid Laurier University, along with a Bachelor of Public Affairs and Policy Management from Carleton University.
---