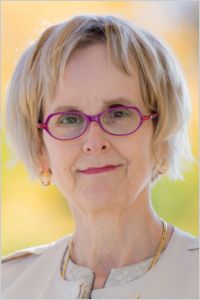 Anne Giardini, O.C., O.B.C., Q.C., elected to a three-year term on the Pembina Institute's board of directors in June 2020, is an executive, lawyer, director and writer, who served as Simon Fraser University's 11th Chancellor from 2014 to 2020. A long-time leader within Canada's resource industry, she was president of Weyerhaeuser Company Limited after serving as Weyerhaeuser's General Counsel.
Past and current board service includes B.C.'s Council of Forest Industries, the Alberta Forest Products Association, the Forest Products Association of Canada, the Sustainable Forestry Initiative, the Writers Trust of Canada, CMHC, TransLink, HydroOne, BC Achievement Foundation (Chair) and WWF- Canada, among others. She has been Chair of the Greater Vancouver Board of Trade and the Vancouver Writers Festival and is an honorary patron of the Seaforth Highlanders of Canada.
Anne has published two novels and co-edited a collection of writing advice. In 2016, she was appointed an Officer of the Order of Canada for her contributions to the forestry sector, higher education, and the literary community. In 2018, she was appointed to the Order of British Columbia.
Anne holds a B.A. in Economics from SFU, an LL.B. from UBC, and an LL.M. from Cambridge University (Trinity Hall).
---