The Liberal Party's campaign platform, released Sunday, promised a cap-and-trade system that would apply to "all sectors of the economy with no exceptions."
The party committed to auction emission allowances to companies rather than distributing them for free, a design element that strengthens the proposal. Unfortunately, the platform didn't specify when the system would go into effect or how stringent it would be.
Despite the unanswered questions, a pledge to put a price on Canada's greenhouse gas pollution is always good news in our books. But according to this week's media reports, cap-and-trade is a pretty scary prospect for some commentators.
Calgary Conservative MP Jason Kenney called it "irresponsible" and predicted it would "kill jobs." A spokesman for Alberta's premier predicted it would "hurt Albertans." And the Sun newspaper said the plan "could kill Canada's golden goose — the Western oil patch."
Reality check: what the research shows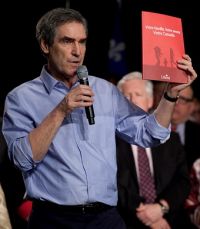 There are so many ways to answer these objections that it's hard to know where to start. Pembina's executive director, Ed Whittingham, provided a strong rebuttal in a letter to the editor in the Ottawa Sun newspaper earlier this week, which pointed out that:
Economic analysis shows that the oilsands would continue to expand even if governments put a very significant price tag on greenhouse gas pollution.
In sharp contrast to the accusation of "killing" jobs, Canadian and international research shows that strong climate policies could create more jobs than business as usual.
Many of Canada's corporate leaders support cap-and-trade systems. In 2009, we worked with corporate leaders to produce a strong statement that calls carbon pricing "a critical component" of tackling greenhouse gas pollution. Companies like ENMAX, DuPont and Dow were among the signatories.
As the CD Howe Institute has shown, the contention that cap-and-trade is bad for one region or anther is not well founded. The regional effects depend on the way the system is designed. For example, a carbon pricing system could be designed to make sure that all the revenues collected in a given province stay in that province.
Looking back
Those who fear the consequences of carbon pricing today might want to bear a couple of history lessons in mind.
First, it wasn't that long ago that Stephen Harper's government supported cap-and-trade. The 2008 Speech from the Throne contained a commitment to work with provinces and partners to "develop and implement a North America-wide cap-and-trade system for greenhouse gases." Or here's how then-environment minister Jim Prentice put it in a 2009 speech: "it has been our stated intent, from the outset, to eventually move to a hard cap-and-trade regime as we gained more experience, and in light of international developments."
If you think carbon pricing is expensive, just try the alternative. Last year, the Harper government stepped away from cap-and-trade in favour of a "sector-by-sector regulatory approach," as Environment Minister Peter Kent explained in his first speech in the portfolio. While it may seem surprising that Conservatives would prefer command-and-control regulations to market-based tools like carbon pricing, Minister Kent explained that his approach is based on following the regulatory lead of the U.S. Environmental Protection Agency.
So in this campaign, voters face a choice between parties that support some form of carbon pricing and one — the Conservative Party — that does not. If you're wondering what each approach means for Canada's economy and environment, we've uncovered some analysis that helps to weigh the two choices.
Costing out the options
Back in 2002, when Canada still planned to meet its Kyoto target, the federal government analyzed its policy options to get there in a detailed discussion paper. The paper drew on expertise from across the country and on economic modelling to illustrate the pros and cons of Canada's choices. The results provide a cautionary tale about the consequences of taking carbon pricing off the table.
Option 2, called "targeted measures," comes closest to the Harper government's sector-by-sector regulatory proposal. The analysis concluded that this option is "the most expensive both in terms of overall economic impact and in costs to governments."
The analysis finds that sectoral regulations mean higher administrative costs because they require governments to design and implement a series of complex measures. Targeted regulations also "inevitably" incur greater compliance costs in reaching the target, because they don't use the market to find the cheapest emission reductions as a cap-and-trade system would do. Most important from an environmental perspective, the regulatory approach provides "the least certainty for meeting a target."
Compare that bleak assessment to the results for Option 1: a broad-based domestic emission trading system that auctions allowances to companies. The assessment concluded that this option "would lead to the best overall economic impacts of any approach," including the lowest cost to reach the target.
In other words: if you think carbon pricing is expensive, just try the alternative.
Canada's choice
Those politicians who dismiss carbon pricing leave themselves with two choices, neither of which is very appealing. Either they plan to pursue a system to regulate greenhouse gas emissions that costs even more, or they will very likely miss their emission reduction targets.
Putting a price on greenhouse gas pollution has been the best policy option for Canada all along. But nearly a decade after the federal government acknowledged that, we still don't have a national carbon pricing system. In this campaign, Canadians deserve to see all parties commit to put this crucial piece of the puzzle into place at long last.
---
Clare Demerse
Clare Demerse was the director of federal policy at the Pembina Institute until 2014.
---