In the most comprehensive scientific review to date, an international panel of doctors, scientists and acoustics experts have concluded that the noise and vibrations from wind farms do not pose a risk to human health.
The report, Wind Turbine Sound and Health Effects, was released on December 15. Its findings aren't just good news for proponents of wind energy, but also for people living near large-scale wind farms or future development sites.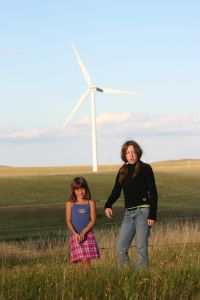 "There is no evidence that the sounds, nor the sub-audible vibrations, emitted by wind turbines have any direct adverse physiological effects on humans," said Dr. Robert J. McCunney, one of the authors of the study and an occupational/environmental medicine physician and research scientist at Massachusetts Institute of Technology.
As the wind-energy industry has grown in recent years, a small number of people living within sight or sound of wind turbines have reported developing health conditions related to fatigue and stress.
Researchers found "no evidence" that the sound or vibrations from wind turbines have "any direct adverse physiological effects" on people's health.

While numerous studies conducted world-wide over the past decade have consistently concluded that turbines do not directly cause such conditions, the authors say this is the first study to take into account the findings of all relevant and credible research previously conducted on the issue. (A look at the list of works cited at the back of the report indicates just how thorough this review is.)
The multi-disciplinary review panel includes experts in the fields of medicine, audiology, acoustics, environmental and public health from Canada, the United States, the United Kingdom and Denmark.
Some critics questioned the validity of the report, which was funded by the Canadian and American Wind Energy Associations. But Dr. David Colby — acting medical officer of health for Chatam-Kent and a member of the review panel — told CBC News those concerns were unfounded.
He reportedly said his team had an "open mandate" to explore existing research on the issue.
"None of us here have our opinions for sale," he said.
Members of the review panel included: W. David Colby, M.D.; Robert Dobie, M.D.; Geoff Leventhall, Ph.D.; David M. Lipscomb, Ph.D.; Robert J. McCunney, M.D.; Michael T. Seilo, Ph.D.; Bo Søndergaard, M.Sc.
---
Julia was the communications director at the Pembina Institute until 2015.
---