Cette article est disponible en français ici.


Several weeks ago the Pembina Institute and the David Suzuki Foundation published my study "Is natural gas a climate change solution for Canada?" Its main conclusion (p.36) was that "adequate climate policies will lead to a level of natural gas production and use that is lower than the business-as-usual level, in the near, medium and long term."
As I noted in the media release on the day the report was published: "Economic modelling consistently shows that efficient policies to reduce greenhouse gas emissions will lead to less natural gas than under business as usual — even in the near term."
We were hoping that our work would help stimulate a well-informed debate about natural gas, based on the best available science and economic analysis. It's therefore very disappointing that two of the most prominent proponents of shale gas development in Quebec have chosen to use our report as part of a misleading public relations exercise.
Stéphane Gosselin, executive director of the Quebec Oil and Gas Association, claims that the report "says that if Canada and the U.S. made major use of natural gas in the future, it would allow them to meet their international greenhouse gas reduction targets for 2020." This statement (in French) can be found in a video on a website financed by the Canadian Association of Petroleum Producers.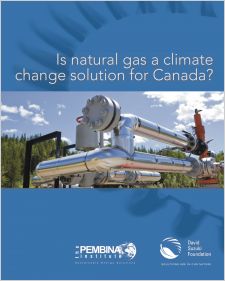 I did acknowledge, in the introduction to the report (p.5) — before getting to an analysis of the economics — that replacement of coal by natural gas "could potentially make a significant contribution to meeting the near-term national greenhouse gas targets to which both Canada and the U.S. have committed." (Note: "potentially make a significant contribution to meeting," not "meet"). But this statement took no account of the need to reduce greenhouse gas emissions in an economically efficient manner.
Mr. Gosselin remains completely silent on our main conclusion, which is based on the economic modelling studies reviewed later in the report. He fails to mention what that review revealed: "where policies are designed to be consistent with limiting average global warming to 2°C — the objective that governments have unanimously endorsed in the UN climate negotiations — North American or Canadian natural gas consumption is projected either to rise only a little above current levels or to decline." (p.35)
And when Kim Cornelissen of the AQLPA, an environmental NGO, and Lucie Sauvé, professor at the University of Quebec, tried to set the record straight, Mr Gosselin simply repeated his extremely selective portrayal of my report.
"Economic modelling consistently shows that efficient policies to reduce greenhouse gas emissions will lead to less natural gas than under business as usual — even in the near term."Michael Binnion, CEO of Questerre Energy (holder of the largest area of shale gas leases in Quebec), has provided his own account of the report. He goes so far as to claim that "Suzuki and Pembina say natural gas could economically reduce emissions by over 30% in North America."  Our conclusion is the exact opposite: reducing greenhouse gas emissions economically means slower development of natural gas extraction, even when one is seeking only modest emission reductions. But Mr. Binnion, like his colleague, avoids any mention of this main conclusion of my report.
Mr. Binnion incorrectly claims that our reservations about natural gas stem solely from our position that industrialized countries need to reduce their greenhouse gas emissions by 80 per cent (by 2050) to help stabilize the atmospheric concentration at a level allowing us to limit global warming to 2°C. He dismisses these goals as "dreams of perfect" while failing to acknowledge that they have been unanimously endorsed by national governments, after years of scientific studies.
Messrs. Gosselin et Binnion express great satisfaction with the parts of my report where I provide a nuanced assessment of the risks of contamination of drinking water by shale gas operations. But again, they do this selectively, notably omitting any acknowledgement of the industry's disturbing track record in Pennsylvania. In my report (p.17) I quoted at length from a June 2010 statement made by that state's Department of Environmental Protection:
Since January 2010, the department has completed nearly 1,700 inspections of Marcellus Shale drilling sites across the state, finding more than 530 violations that range from poor erosion and sediment controls to administrative violations to spills and leaks from improperly managed or constructed [wastewater] containment pits. [...] During its inspections, the department has identified problems with improperly constructed or maintained drilling waste and flowback containment pits at 29 of the 364 Marcellus Shale wells drilled this year. [...] The department has also responded to spills from a range of sources including leaking fuel storage tanks, unsecured valves on fracwater storage tanks and accidents involving trucks hauling wastewater.
Messrs. Gosselin et Binnion also avoid mentioning another important finding of my report (p.39): "a region targeted for shale gas development will be subject to intense industrialization, with hundreds or thousands of wells drilled annually, a well pad roughly every square mile, considerable additional infrastructure, and the inevitability of accidents." Personally I believe these impacts on the landscape represent the single biggest obstacle to shale gas development in Quebec.
I find it odd, to say the least, that an industry with such a clear need to win public confidence should engage in the kind of cheap public relations that consist of quoting misleadingly from a public report of which the authors are sure to respond. "Shooting oneself in the foot" comes to mind. Please, Messrs. Gosselin and Binnion, could we have a debate based on all the facts — not just the ones that you like?
---
Matthew Bramley
Matthew Bramley was with the Pembina Institute from 2000 to 2011, serving as director of the climate change program and director of research.
---