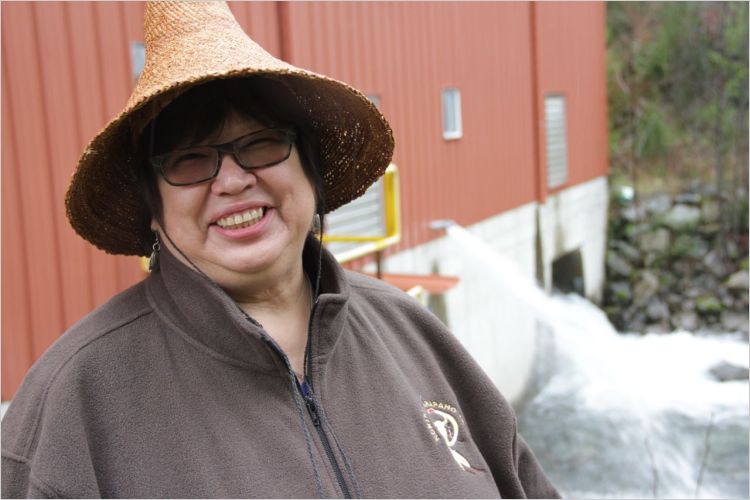 Judith Sayers is a former chief, a negotiator and a leader in helping First Nations get involved in the renewable energy business.
Her traditional name is Kekinusuqs (pronounced ke kay ana suks) and she is a member of the Hupacasath (pronounced who pa cha sut) First Nation in the Greater Alberni Valley on the west coast of Vancouver Island.
Trained as a lawyer in Alberta, she eventually made her way back to the Hupacasth First Nation where she served as chief for 14 years, as well as chief negotiator. In the '90s, plans for a large natural gas facility in Port Alberni were turned away due to concern about emissions. "As a nation, we asked ourselves, 'Well, how can we be a part of the solution so that we aren't creating greenhouse gas emissions?'" says Sayers.
After evaluating several forms of renewable energy and the natural resources in their territory, run-of-river hydro made the most sense. They evaluated 10 sites on rivers, creeks and streams in their traditional territory and settled on China Creek. Run-of-river is a relatively simple technology. You divert a part of creek that has a big elevation change into a pipe. You run that pipe downhill to a powerhouse where you spin a turbine with the force of the water and generate electricity.
The Hupucasath First Nation with Sayers as their chief built a 6.5-megawatt run-of-river hydro project that produces more than enough electricity for the 6,000 homes in Port Alberni. They created the Upnit Power Corporation and retained a 72.5 per cent controlling interest; their partners are Synex Energy Resources Ltd. (12.5 per cent), Ucluelet First Nation (10 per cent) and Port Alberni (five per cent).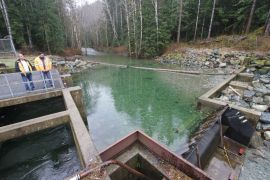 "We believe in the right of self-determination," says Sayers. "We own 72.5 per cent of this project. We get to set the standards. And through setting the standards of how we operate, we also manage our territory, the land, the water, and that was one of the great benefits of doing this. And so we get to make the decisions." 
They got to choose where to put the project, a key part in mitigating environmental damage. Due to impassable falls there was no salmon run in China Creek, and care was taken to improve the health and numbers of the local Dolly Varden trout population. They also ensured there no sacred sites were affected. The project produced two full-time jobs.
The Hupacasath gave the town of Port Alberni a five per cent stake in the business, which deepened their relationship with the town.
"That was just the start of lots of things and we're doing lots of new ventures now with the First Nations in this area. We have ten First Nations on the West Coast of Vancouver Island. Port Alberni is the headquarters for most of the First Nations, and there's lots of joint ventures going out, so that was the first," says Ken McRae, the former mayor of Port Alberni.
Imitation is the sincerest form of flattery, and today 125 of the 203 First Nations in B.C. are involved in renewable energy projects. Not all involve ownership, and a variety of renewable energy technologies are being deployed including solar, wind and biomass. "Some First Nations are building their second and third projects," says Sayers.
Now not all run-of-river projects are amazing. Some can have real, negative environmental impacts — particularly on fish populations. But having First Nations and other local groups own these projects creates pressure to build good projects and avoid unnecessary environmental impacts.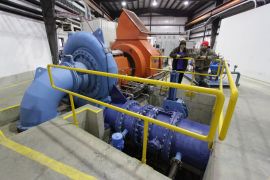 The China Creek project is now ten years old. Sayers has moved on from being chief to joining the board of Clean Energy BC as well as teaching and consulting. Current Chief Steve Tatoosh says, "It's a great success story for the Hupacasath. I mean, there's a lot of risks involved in these types of projects but with good financial management and due diligence, I think we'll overcome that."
Some years are better than others, but the $14 million project is about halfway paid off and they've had more good years than bad — about seven out of ten have been good, according to Tatoosh. 
"Year to year, you can make up towards a million dollars and with good financial management, we've been able to put money on the debt every year," says Tatoosh.
But it's not a sure thing. Run-of-river is weather dependent: you need a good snowpack and lots of rain to make money. When we spoke to Sayers at the edge of China Creek, it was pouring down.
"It's a good day. When our members complain about rain I always say: 'Well, we're making money,'" says Sayers with a laugh.
---
David Dodge
David was the host and producer of the Green Energy Futures multimedia series.
Duncan Kinney
Duncan was the editor and production manager of Green Energy Futures until 2015.
---